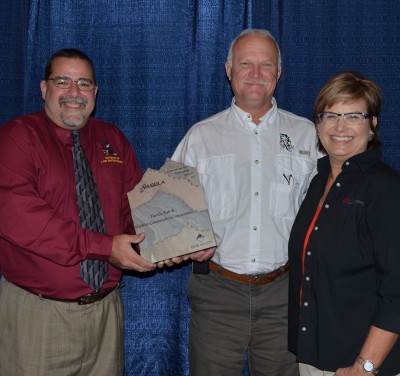 The Florida Fish & Wildlife Conservation Commission (FWC) received the Innovations Award on Sept. 10 at the National Association of State Boating Law Administrators' conference. Capt. Richard Moore and Phil Horning of FWC's Boating and Waterways section accepted the award, which is sponsored by Kalkomey Enterprises Inc., parent company of Boat Ed.
"NASBLA and Boat Ed established the Innovations Award as a way to recognize and bring more visibility to programs or projects that use new approaches to encourage safe boating," said Cindy Kalkomey, vice president of product development. "The fact that we had more Innovations Award submissions this year than ever before tells us there's a great deal of ground-breaking work being done on behalf of safe boating. Florida should feel very proud of their award-winning initiative.
Florida Fish & Wildlife Conservation Commission received the award for developing a Statewide At-Risk Vessel Application. The application was placed into effect to deal with abandoned and derelict boats in Florida. This cost- and time-saving initiative aims to identify what could be future problem boats, and provides a process to deal with those boats before they become a major issue.
"This application is a proactive tool to help identify boats that are either violating current boating safety or registration laws or are poised to someday become derelict," said Moore, Florida's boating law administrator. "Marine law enforcement officers identify such boats and prompt a process to prevent future issues. A statewide online map allows the public to check on boats of concern and provide assistance in preventing such boats becoming an issue down the road. "
According to the FWC, the program is growing. More participating officers has meant more information is collected and available, which helps state officials identify trends and patterns related to at-risk and derelict vessels. The success of Florida's program is one that can be duplicated in other states.
"I feel so blessed to receive this award. It recognizes and forwards collaboration between agencies. Awards like this help drive safety programs to continually improve," said Horning, Derelict Vessel Program administrator for Florida. "We are always glad to share resources with other agencies and hope that we can help them set up similar programs."
Image courtesy Boat-ed