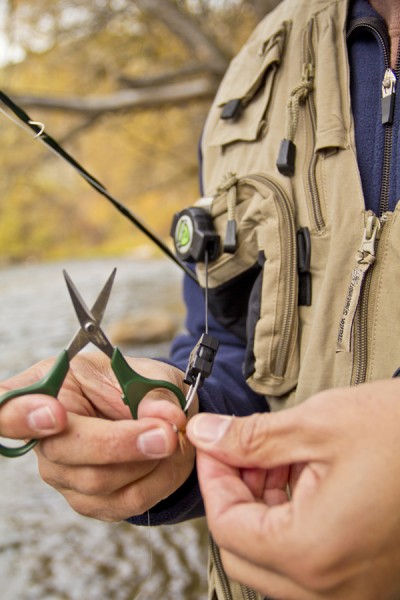 Kayakers all have at least one favorite accessory – from map cases to safety kits – and, of course, the essential paddle. Whether you are fishing from a kayak,
SUP or canoe, or paddling recreationally, keeping your gear secure is a top priority.
T-REIGN retractable gear tethers are the accessory that keeps these necessities safe, secure and ready for immediate action.
T-REIGN retractable gear tethers offer a range of sizes and attachment options to meet any requirement. With a carabiner, they connect easily to a D-ring, a belt loop or a strap. A stainless steel clip makes it slide easily on belts and straps but doesn't slide off, and it has 360º rotation. With a hook-and-loop strap it secures to D-rings, straps and bars.
"With appreciation for the kayaker's essentials, we consider our retractable gear tethers to be the accessory to protect their necessities," said Randy Martin, sales director for the T-REIGN ( pronounced "terrain") Outdoor Market. "Our goal for the kayaker: never lose your gear again!"
A kayaker's gear is never where they need it to be – it's always down by their feet or somewhere, not easily accessible. T-REIGN tethers help kayakers stay organized, with everything just an arm's distance away.
If a key piece of gear is dropped, it's either a struggle to get it back or it's simply gone to settle at the bottom of the lake or stream. T-REIGN helps protect the kayaker's  most trusted tools and electronics from loss or water damage.
There are four T-REIGN models to meet the various sizes and applications of gear. All have a rugged Kevlar cord to assure reliable performance. The XD (Xtreme Duty), great for paddles, has a 36-inch cord with 14-ounce retraction force. The Large model has a 48-inch cord with 10-ounce retraction force. Both the XD and Large have a cord-lock to take tension off the cord. The Medium gear tether has a 36-inch cord with 6-ounce retraction force, and the Small model has a 24-inch cord with 4-ounce retraction force.
All have a quick disconnect gear attachment, and stainless steel springs and hardware. Proudly made in the USA, T-REIGN retractable gear tethers are backed by a Lifetime Service Policy.
For more information, visit the T-REIGN website at www.t-reign.com, or find it on Facebook, Twitter or YouTube.
Image courtesy Tom Ables