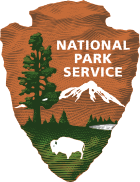 Surround yourself in history with a visit to Antietam National Battlefield, where a bloody battle on September 17, 1862 helped decide the fate of the nation. Discover the battle's connection to the Emancipation Proclamation and how it forever changed the course of American history.
Antietam tells the stories of the soldiers who fought here and of the generals who led them into battle. Learn about the civilians caught up in the whirlwind of war and how their lives were affected by the terrific combat that raged on their farm fields and in their backyards.
Antietam National Battlefield will observe the 150th anniversary of the battle September 14-22. Planned programs include tours, hikes, music, children's activities, living history, guest lecturers and memorial ceremonies. On September 17, beginning at 3 pm, a remembrance ceremony at Antetiam National Cemetery will feature the reading of names of those soldiers killed or mortally wounded in the battle.
Logo courtesy National Park Service