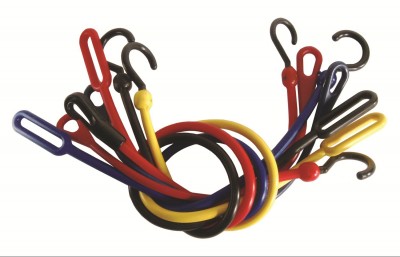 The Perfect Bungee's flex-web (MSRP $35.99) can be trusted to anything and everything easily and safely. By stringing several fixed end cords together via a central ring to create a 4, 6 or 8 arm "web" in two different lengths, the flex-web secures it all!  Like all of The Perfect Bungee's products, the flexible polyurethane material stretches to twice its original length.

The Perfect Tie Down (MSRP $35.96 for a pack of two) can securely hold all items with its easy-to-use design. Patented internationally, The Perfect Tie Down is made with high-strength thermo plastic with ¼" solid braided polyester rope. With a rated capacity of 350 pounds with 75 pounds of working capacity, The Perfect Tie Down is the must-have tool for hauling presents of all sizes from the store to the house.
Available in a variety of lengths and colors, there is a bungee for every taste – learn more about The Perfect Bungee by visiting www.justduckyproducts.com.
Images courtesy Avalon Communications/Just Ducky Products