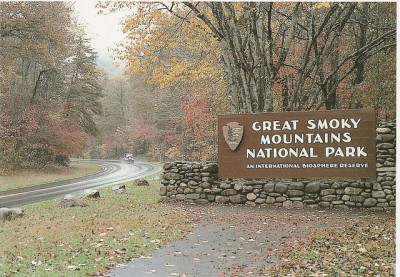 In order to stop a $4 fee from taking effect, the group Southern Forest Watch is threatening to file a lawsuit against the National Park Service (NPS). The proposed fee, set to take effect in 2013, would affect only backcountry overnight campers in the Great Smoky Mountains National Park. Day-hikers and front-country campers would not be affected, although a fee is already in place for front-country campers.
The fees may affect Appalachian Trail hikers. According to a park volunteer, 72 miles of the Appalachian Trial goes through the Great Smoky Mountains National Park. Overnight campers have to fill out a permit to camp in the park's backcountry, but at the moment it is free and there is no online or email reservation. Permits can only be picked up at designated locations.
The fee would charge $4 per camper per night including a $10 reservation fee, according to an email message from Southern Forest Watch member John Quillen. "This means that for two people for two nights, the cost to sleep on unimproved ground with no amenities whatsoever on public lands is $26. That's almost as much as someone who pulls up in an RV, hooks up to a sewer, has running water, showers and picnic tables plus garbage service."
Quillen claims that the entire process of introducing the fees has been "frought with deception and manipulation" by the Park Superintendent Dale Ditmanson. He discounts Ditmanson's claims that backcountry camping areas are overcrowded, stating that park numbers showed an average of two campers per site per night. "This is in sites rated for 12 and 14 people sometimes," Quillen said.
The fee was proposed in the summer of 2011 and approved last spring. It is set to be implemented sometime in 2013, but its fate is uncertain if Southern Forest Watch goes through with its lawsuit claiming that the fee is illegal. The group is made up of more than 80 residents of Georgia, Kentucky, North Carolina, South Carolina, Tennessee and Virginia.
The NPS said the fee will go toward managing a reservation system that makes it easy for hikers and campers to book online and print a permit at home. It will also pay for staff in the backcountry office and for two rangers to patrol the backcountry, according to Channel 6 WATE in Knoxville, Tennessee.
Park officials expect the fee to generate $280,000 in revenue. That assumes there would be 192 campers a day paying the fee, 365 days a year.
John Quillen told Channel 6 the fee is illegal, but it's not just about the money; it's about the principle. "A trail that volunteers maintain, water that God gave us and the ground that God gave us is not an amenity provided by the federal government."
With the help of a local law firm, Southern Forest Watch has sent a letter listing their concerns to the NPS and to the Department of the Interior. The group is awaiting a response from the NPS before they take further legal action.
Image from Jetske (Jetske19) on the flickr Creative Commons