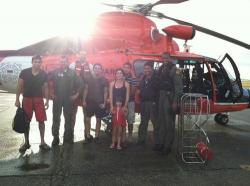 A child and four adults were rescued by a Coast Guard helicopter crew Sunday after the people spent the night in their sand trapped truck about 20 miles north of Port Isabel, on South Padre Island.
The truck had been trapped since Saturday afternoon, but they started fearing for their safety when a storm hit Sunday morning and they contacted 911 at approximlately 5 a.m.
Cameron County Sheriff's Department contacted Coast Guard Sector Corpus Christi command center for assistance, as the area the vehicle was located was highly remote and not easily accessible.
Sector Corpus Christi launched an MH-65 Dolphin helicopter and crew to assist.
The aircrew located the vehicle at about 7:30 a.m., and hoisted the five individuals to safety.
"Although rescues from land are usually not our jurisdiction, we recieved a request from the local sheriff's department asking for our assistance," said Lt. Keith Thomas, pilot of the rescue helicopter. "We realized when arriving on scene that due to the inclement weather, high tide, and their location, local police and first responders would not be able to reach them by normal means.
"Being ready to respond to cases such as these, although not typical to the Coast Guard, highlights the dynamic nature of the Coast Guard and its responders, and the organization's vital role in South Texas."
The five individuals were transported to the Brownsville International Airport.
With the exception of ice-breaking, Sector Corpus Christi conducts all the missions of the Coast Guard. To date this year, the unit's personnel have assisted 661 people in distress and saved 144 lives.
Image courtesy United States Coast Guard