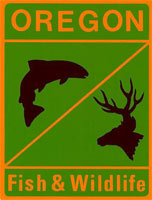 The public boat ramp and county access road at Bradley Lake just south of Bandon closed today through at least Oct. 31 for construction.
Big J Construction will replace the existing boat ramp and add docks that extend to deeper water so anglers without boats can fish for rainbow trout and warmwater species. The narrow channel between the boat ramp and main body of the lake will be deepened. The channel often gets shallow and choked with weeds.
Other local angling opportunities include Garrison, Saunders, Empire and Butterfield lakes. Salmon fishing is in full swing in local rivers and bays.
ODFW owns the access area and partners with Coos County Parks Department which provides maintenance. This project is funded by a Sport Fish Restoration grant from the U.S. Fish and Wildlife Service and matched by a facility grant from the Oregon State Marine Board.
Image courtesy Oregon Department of Fish and Wildlife