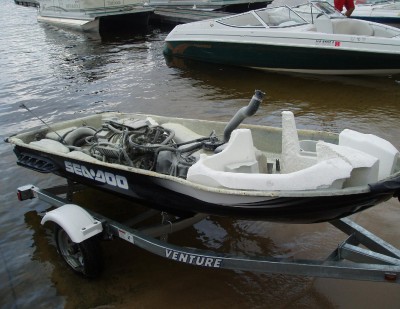 At 4:50 PM yesterday afternoon, Karl Marchionda, age 31, from Danvers Massachusetts was injured after the personal watercraft (PWC) he was attempted to start exploded. After fueling approximately ten gallons of gas into a Sea Doo GTX155 PWC at Long Lake Marina, Marchionda attempted to start the PWC and it exploded while he was seated on the machine in the water.
Marchionda was the only person on the PWC when the incident occurred. Witnesses say that Marchionda was launched about 20 feet into the air and the cowling of the machine went about 60 feet. Marchionda landed on the dock face first. He was transported to Bridgton Hospital with non-life threatening injuries mostly contained to his face. He was not burned during the incident. Marina owner James Davenport quickly extinguished a fire that had started in the hull of the Sea Doo.
Primary investigating Game Warden Neal Wykes stated that a lock ring securing the fuel lines to the gas tank had become loose and allowed some fuel to enter the hull of the machine. Early investigation results as to the cause of the explosion point to gas fume ignition when the machine was started. Cumberland County Sheriff's Office and Naples Fire and Rescue assisted. The incident remains under investigation.
Image courtesy Maine Warden Service