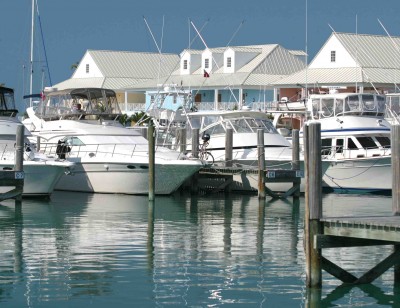 Guy Harvey Outpost Resorts announced today that the popular Old Bahama Bay Resort & Yacht Harbour is the newest member of the Expedition Properties Portfolio by Guy Harvey Outpost. Old Bahama Bay marks the third Outpost Expedition Property in the northern Bahamas since launching the program earlier this year.
Making the announcement today were Outpost co-founders Mark Ellert and Bill Shedd, along with James Culmer, the manager of Old Bahama Bay Resort & Yacht Harbour.  "Old Bahama Bay is without question one of the most popular out-island marina resorts in the Bahamas, with world class fishing and legendary diving," remarked Outpost President, Ellert. "It's the front door to the Northern Bahamas for the entire eastern seaboard boating and fishing community, so Old Bahama Bay is a perfect complement to our other Outpost Expedition properties in the Abaco Islands."
Bill Shedd, added "For Outpost, it's important to promote the understanding and appreciation of a destination's relationship to its larger marine ecosystem. From Old Bahama Bay on past the  Green Turtle Club to the Blackfly Bonefish Lodge at the south end of Great Abaco island, there are well over 200 miles of shoreline, flats, reefs, coves and cays.  Each is uniquely different, but together they make for a remarkably vibrant and diverse marine environment, offering great vacation and scientific opportunities." The Shedd family legacy is written in conservation and marine education, having co-founded Sea World and the Hubbs Seaworld Research Institute, for which Bill Shedd serves as Board Chairman.  Shedd is also owner of AFTCO, a fishing tackle industry leader.
Old Bahama Bay Resort and Yacht Harbour is located on West End, Grand Bahama Island, approximately 60 miles east of Palm Beach.  The resort, with its 73 villas and full service marina, has recently reclaimed its operating independence after becoming associated with plans to redevelop two thousand acres of land once known as Jack Tar Village. The newly created management company, Island Ventures Resort & Club, Ltd., has installed James Culmer as Resort Manager.
"By teaming with Guy Harvey Outpost, we¹re combining our top-of-class facilities and amenities with watersport enthusiasts and their families who are passionate about their time on, in, and around the water and their loyalty to Guy Harvey and his widely recognized brand of conservation, discovery and watersports adventure," noted Culmer in explaining the decision to affiliate with Outpost.  "By joining Expedition Properties, Old Bahama Bay joins a select group of Outpost owners and operators who share this passion and loyalty and we look forward to working with Guy and his Outpost properties to bring his message of discovery to an ever expanding audience."
Culmer also announced that Old Bahama Bay is celebrating their new affiliation with Outpost offering dockage at $1.00 per foot and  room rates of $150.00 per night –  with a third night free –  from September 4th through October 31, 2012. "It's our back to school special," Culmer quips.
"We're back in class, so to speak, with old friends and some new faces.
Today we're learning everything we can about Guy's vast world of science and discovery, and tonight's homework assignment is to put that knowledge to work developing some exciting and unique fall and spring fishing and diving activities!"
Image courtesy Old Bahama Bay Resort