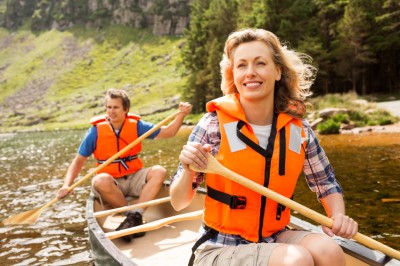 In the last decade, about 80 percent of boating fatalities were due to drowning. Of those, the United States Coast Guard determined that wearing a life jacket would have saved 80 percent of those victims.
However, many boaters bristle at the suggestion of making it mandatory for boaters to wear a life jacket. A 2011 resolution issued by the National Boating Safety Advisory Council, though, called for just that.
"I would not like to be required to wear a life jacket under all circumstances simply because it's not needed in all circumstances," said Jeffrey Frischkorn, professional outdoor writer.
Frischkorn did go on to say that when he's canoeing or kayaking, he always wears a life jacket.
Tony Bynum, commercial outdoor photographer said "I would not support a new law requiring that I wear a life jacket.  I do wear a life jacket every time I'm in a watercraft whether it's a layout boat, 12-foot aluminum fishing boat, a canoe, kayak or raft."
Why would people who wear life jackets oppose a law requiring it?
A lot of people object to the idea of being coerced into doing what is deemed best for their safety or well-being. There's a trade off with paternalism. It may offer protection, but it's done at the expense of liberty and autonomy, explained James Tantillo, environmental history and ethics lecturer for Cornell University and executive director for Orion, The Hunters' Institute.
"Laws designed to shield people from self harm also create a new class of criminal," Tantillo said. "Do we want to criminalize people for not wearing a life jacket? Does the government have the right to impose restrictions to prevent self harm? If the driving force is to avoid risk, then taken to the extreme, we'd ban cars. "
Tantillo also pointed out context plays a role in what's appropriate. While river rafting might dictate the need to wear a life jacket, canoeing in a small pond may not necessitate one.
The National Boating Safety Advisory Council resolution targets compulsory life jacket wearing for:
Personal watercraft regardless of length.
Human-powered vessels (such as canoes, kayaks, rowboats, etc.) regardless of length.
Any vessel less than 18-feet in length.
For any person towed while engaged in watersports.
By focusing on open boats under 18 feet, it's estimated a life jacket regulation would cover 83 percent of boaters at highest risk of drowning. For anyone who has ever had a scary encounter in the water, the regulation seems like a small sacrifice.
Freelance outdoor writer Darren Marcy remembers a swim he took after the drift boat he was in was flipped by a cable in New Mexico's San Juan River.
"I never understood the power of water until that day and will never forget the effects of the cold," Marcy said. "I crawled out on the bank and was too weak to stand up. I'm not sure I would have made it had I not been wearing a PFD that day."
While the U.S. Coast Guard does not have an official position on compulsory life jacket wearing, Jeffrey Hoedt, chief of the boating safety division for the USGS, said the benefits would be significant.
"Hundreds of lives would be saved. Nothing would have as large an effect on the number of lives it would save and in as fast a time period."
Hoedt said he knows that some people object to mandates. However, the other side of that coin is the devastating effect a drowning has on family and friends. It also puts the onus on emergency response teams – and ultimately tax payers –  for search and rescue missions or recovering bodies.
One thing Hoedt believes most people don't understand is today's life jackets come in different styles and types that make them comfortable to wear.
Huntinglife.com publisher Kevin Paulson is a fan of the inflatable life jackets for hunters and anglers who boat.
"I love the new light, inflatable life jackets I see on the bass tours, and I would consider wearing one of those all day."
Hoedt said boater education does a good job of helping boaters voluntarily make good decisions. However, only 23 percent of all boaters are required to take a boating safety course.
The good news is you can learn more about boating safety by taking an online boater safety course at www.boat-ed.com. The training offered at this site is approved by the state agencies responsible for boating safety education, and it's the same material that's taught in the classroom.
Studying at boat-ed.com is free. Those who must be certified to obtain a boater education card or boating license pay a one-time fee, which is due only if they pass the course. Online boater safety courses are available in participating states, so visit www.boat-ed.com to take a course specific to your state.
Image © iStockphoto.com/londoneye