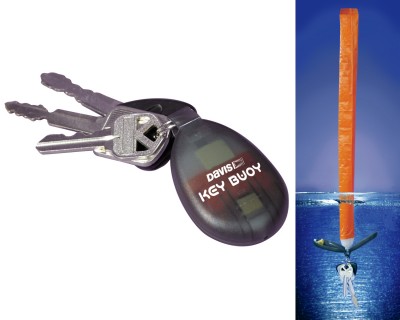 Dropped keys needn't spoil the fun of a boating or lakeside excursion. The compact Davis Key Buoy inflates automatically as soon as it hits the water to prevent keys from sinking.
Once it's activated by immersion, the plastic key fob opens and deploys a buoyant air-filled tube. The Key Buoy inflates to 14″ and extends above the water, making key retrieval as simple as grabbing the bright orange tube. It can rise to the surface in as little as 60 seconds, and remain inflated for over an hour.
The Key Buoy measures 2.4″ H x 1.6″ W x 0.6″ D and weighs just 1.1 oz. It's suitable for items weighing up to 2.8 oz., including key sets, deck plate keys and small tools. All of its plastic parts are recyclable.
The patented Davis Key Buoy is a past winner of NMMA's Innovation Award. Its suggested retail price is only $6.99. The Key Buoy is a one-use-only product, but so economical that boat owners can afford to keep a spare handy.
Contact Davis Instruments, 3465 Diablo Ave., Hayward, CA 94545. 510-732-9229; Fax: 510-732-9188. [email protected]; www.davisnet.com.
Image courtesy Martin Flory Group/Davis Instruments