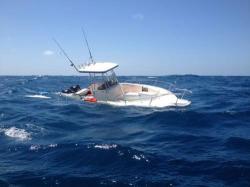 Four people were rescued by a Coast Guard boat crew about 12 miles east of Port Isabel, Sunday afternoon.
A Coast Guard Station South Padre Island rescue boat crew located and rescued them from their sinking 24-foot Sea Ray, which lost power amidst four to five-foot seas.
"Thankfully, the passengers were all wearing life preservers when our crew arrived on scene," said Cmdr. Dan Deptula, the response officer of Sector Corpus Christi. "Once their vessel lost power, they immediately anchored to keep their bow into the waves. Their good thinking ensured our crews had enough time to find them, but they were prepared for the worst.
"These boaters, however, were very lucky to be within cell phone range," said Deptula. "We lost communications with them due to being so far off shore and were fortunate to find them in time. We strongly urge mariners to carry a reliable VHF marine-band radio."
Image courtesy United States Coast Guard