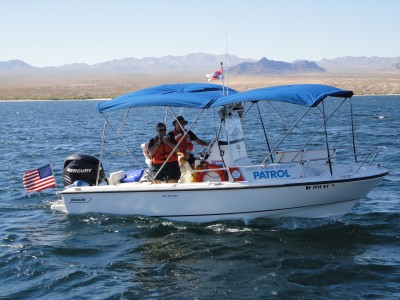 On a remote lake in the hot Nevada-Arizona desert, being bigger isn't necessarily better. One of the smallest US Coast Guard Auxiliary organizations, Flotilla 9-7 of District 11SR, was honored by Boat Owners Association of The United States (BoatUS) with the prestigious "Best Flotilla in the Nation" Award for 2011 at the Auxiliary's National Convention held in San Antonio, Texas. The flotilla, which has just one patrol vessel and the bare minimum number of members to sustain a unit, bested over 1,000 other flotillas from across the US for the top honors.
Located in the southern portion of Lake Mead Recreation Area in Cottonwood Canyon on the shore of 67-mile long Lake Mohave, Flotilla 9-7's six Vessel Examiners managed to complete 1117 free Vessel Safety Checks, over 400 more than the previous year. In addition, their single patrol boat, manned by 9-7's coxswains and crew completed 21 safety patrols, verified the latitude and longitude of 33 Aids to Navigation, completed public affairs and educational missions, and provided recreational boating safety information to thousands of lake visitors.
The sparkling, yet treacherous 67-mile stretch of water downstream of the Hoover Dam is hemmed by a sheer-walled canyon and has blistering summer temperatures as well as afternoon winds known to kick up four-footers that can smash boats against sheer cliffs and scuttle small craft.
The mission of the all-volunteer US Coast Guard Auxiliary is to contribute to the safety and security of citizens, ports and waterways, balancing the missions of recreational boating safety and US Coast Guard support with maritime homeland security and other challenges that emerged as a result of a post-9/11 era. With nearly 32,000 men and women, the Auxiliary has units in every state.
BoatUS President Margaret Podlich said, "The men and women of Flotilla 9-7 excelled at their duties and did an amazing amount of work to help boaters stay clear of the dangers of the lake. By doing that, they ensured everyone had a positive experience and came home safely.
Image courtesy BoatUS