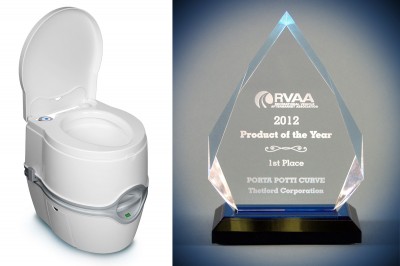 Thetford Corporation's revolutionary, new Porta-Potti Curve portable toilet received the inaugural Recreational Vehicle Aftermarket Association (RVAA) Product-of-the-Year Award.  It was announced at the 2012 RVAA Executive Conference in Chicago, Illinois on August 22.
The all-new Curve, an impressive mix of style, function and convenience, has a sleek, modern and homelike appearance.  It also features a comfortable seat height, a battery-powered flush, convenient level gauges and an integrated toilet tissue holder.
All RVAA-member suppliers were encouraged to participate in the Product-of-the-Year Award program.  A total of 27 products, ranging from chemicals to tow-related items, were submitted for entry and judged by a select panel of dealers and distributors.
"Thetford is proud to be recognized for this new innovation," said Thetford director of marketing Andy Bialorucki.  "We're especially pleased and honored to receive this award because it was selected by dealers and distributors."
Winning an award is nothing new to the Curve, which now has been internationally honored four times since its release earlier this year.  It represents the next generation of portable toilets that Thetford, which first introduced the original Porta-Potti in 1968, has produced.
The Product-of-the-Year Award was created by RVAA's Member Benefits Committee this year.  It allows supplier members to showcase and earn recognition for the many great new aftermarket products that are annually introduced into the marketplace.
Headquartered in Ann Arbor, Michigan, Thetford Corp. is the world's leading supplier of sanitation and refrigeration products for the recreational vehicle, marine and heavy-duty truck industries.  Thetford is a privately-held company with eight manufacturing facilities in four countries.
Thetford subsidiaries include Norcold, America's leading manufacturer of gas-absorption refrigerators and freezers for the RV, marine and truck markets; Tecma, a producer of fine-china toilets and powerful waste-transfer systems based in Italy; and Spinflo, a unit in England that manufactures high-quality cooking and heating appliances as well as accessories.
Image courtesy Martin Flory Group/Thetford