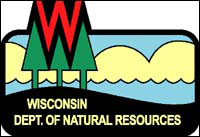 Warm, dry weather has returned for the Labor Day weekend, and along with that, fire danger levels have once again climbed to high and very high throughout much of the state. Burning permits have once again been suspended in many counties, and people heading out over the holiday weekend should be extremely cautious with fires and any possible sources of ignition, such as smoking materials or hot exhausts on vehicles.
Water levels continue to be low on many rivers and in marshes. The lower Wisconsin River continues to run extremely low. The St. Croix River is at very low levels for canoeing and fishing trips. The Wolf River is getting lower by the day making navigation dicey. The South Fork of the Flambeau River is low but the North Fork appears to be fine for paddling.
The early Canada goose and dove hunting seasons open Saturday, Sept. 1, and with many marshes like Horicon and Theresa mostly dry hunters are being urged to check traditional hunting area ahead of time to see if birds are even in the area. Many waterfowl hunters are looking to hunt along rivers due to the lack of water in many marshes. Wildlife crews have been busy mowing fields around sunflower fields to provide access for the dove season. Check the dove hunting pages of the DNR website for dove fields planted on state wildlife areas.
Fishing was slower in many areas during the dog days of August. In the north, variable and changing weather made for erratic fishing success. The most consistent action has been with musky, with anglers having quite a few catches of fish in the 32- to 42-inch size. Bass fishing has been a bit inconsistent in the last week. Walleye fishing has been fair, with many anglers using leeches and crawlers. In the south, warm water temperatures slowed game fish action on the Madison area lakes. Anglers were searching out deep holes and undercut banks where fish could escape the heat on Jefferson county waters, with some bluegills biting in deep water suspended 2 to 5 feet off the bottom.
Walleyes continued to draw considerable fishing pressure on Green Bay. The bite on the east shore was a bit inconsistent but walleyes were still being caught. Action on the west shore seemed to be moving north of Oconto. There was good news for perch anglers along Door County as the cooler water improved the perch bite with some larger perch being caught.
Lake Michigan summer fishing patterns are starting to change, with there not being a tight thermocline anymore. Trollers have been catching mostly chinook, along with some coho and a few rainbow and lake trout. Fishing was also starting to pick up at piers, with action reported at Manitowoc, Two Rivers and Sheboygan.
There were more reports of white-tail bucks beginning to shed velvet this week and spots are fading on fawns. Cold fronts earlier this week brought the first large push of warblers into northern and central Wisconsin, with blackburian, Nashville, golden-winged, magnolia, and Tennessee among those reported.
Apples, acorns and hickory nuts are already heavily dropping off of trees. Sunflowers, asters and goldenrod are blooming. Bright red clusters of jack-in-the-pulpit berries are easily spotted on the forest floor. Sumac and some maple leaves are beginning to turn red. Wild rice is starting to ripen, but ricers will have to search for good beds, as the unusual spring and summer weather was apparently not favorable for beds this year.
DNR Outdoor Report in Portable Document Format (Requires Adobe® Acrobat® Reader)
Logo courtesy Wisconsin Department Of Natural Resources