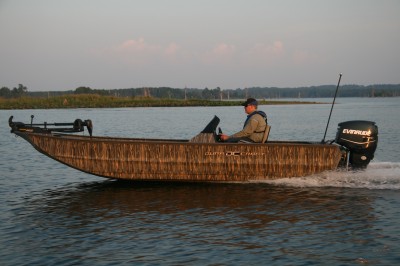 DuraCraft brand back in the hands of the family that started it all
The Ward Family, manufacturer of War Eagle aluminum boats, has reacquired DuraCraft, a brand synonymous with the first welded seam aluminum boat.
Bill and Chick Ward established DuraCraft in 1945. The two brothers purchased post-World War II surplus aluminum from the government with the intention of building boats. Old wooden boats were heavy to load, so Bill and Chick came up with the idea for a lighter weight aluminum boat. Hence, DuraCraft Boats was born, the first flat bottom aluminum boat, which set the standard for aluminum boats from that point forward.
Throughout the 1960's DuraCraft proved its reputation as the strongest, most reliable aluminum boat in the marine industry by garnering government contracts to build boats for the Air Force and Coast Guard. Over the years, DuraCraft boats have been used in many different ways, from hauling fish for state and federal agencies to providing security for NASA.
DuraCraft's popularity in the recreational boating market rose to new levels in the 1970's, thanks in a large part to the promotional efforts of Chick Ward's son, Kim. The company focused its efforts on designing rugged aluminum boats specifically for fishing and family boating. During that time the burgeoning bass fishing industry became fertile ground for DuraCraft and by 1978, DuraCraft had become the nation's largest producer of aluminum bass boats. In fact the DuraCraft Bass Champ model aluminum boat was the official boat of the 1978 Bassmaster Classic, further grabbing the attention of serious bass tournament anglers.
Kim Ward sold the family boat business in 1984. Since then the DuraCraft name has been bought and sold multiple times, eroding away the Ward family's original high level of commitment to quality and customer satisfaction.
In 1992, a third generation of Wards, Mike and John Ward decided to keep the family's boat-building tradition alive by starting War Eagle Boats. War Eagle may be the name, but it was actually ducks that brought the Ward's second boat company solid notoriety. After forming a partnership with Ducks Unlimited in the late 1990's, War Eagle became the premium watercraft for duck hunters across the southeast. "We are a family of sportsmen that understands the need for safety, reliability and durability," said John Ward, President of sales.
In 2011, DuraCraft was sold off in a liquidation proceeding, giving the Ward family the opportunity to buy back the DuraCraft name.
"We were given a chance to buy back the DuraCraft name started by my grandfather and we jumped on it," said Mike Ward, President of Team Ward, Inc. "At one time the DuraCraft brand stood as the pinnacle of quality aluminum products in the marine industry and we at Team Ward, look forward to restoring the Ward family's rich heritage of customer satisfaction to the DuraCraft name."
Image courtesy Akins Promotions/Duracraft