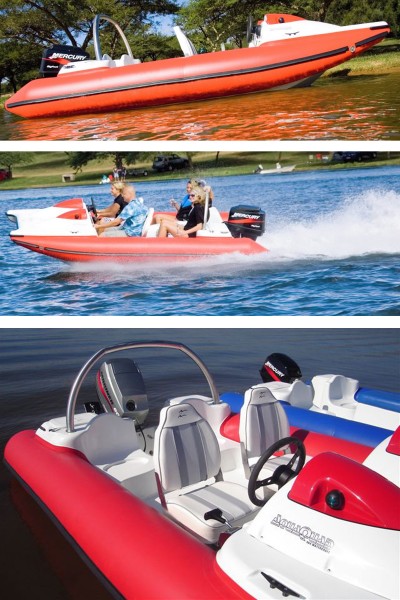 Designed to provide an exhilarating sportboating experience, AquaQuad introduces the dynamic LUX watercraft. Seating four adults comfortably, the LUX is ideal for all types of leisure speed boating use, including wakeboarding, skiing, recreational fishing and family activities.
With its wide pontoon configuration and low center of gravity, this 14′ sports RIB delivers superb handling and versatility in its compact design. Capturing the eye of the more adventurous leisure boater, the LUX offers a thrilling, yet secure, ride while cruising any waterway. Powered by a single 50 hp to 75 hp outboard engine, it delivers superb performance and low maintenance costs, resulting in affordable boating. It weighs 495 lbs. without the motor.
AquaQuad's LUX is factory fitted with a four gang switch panel, built-in 13 gallon fuel tank, cushioned seats and stainless steel roll bar. Optional features include multi-speaker sound systems, wake towers, storage hatches, and wake boarding racks to suit specific requirements.
Prices for the AquaQuad LUX with 60 hp Suzuki engine and trailer start at $19,377.
Image courtesy Martin Flory Group/AquaQuad