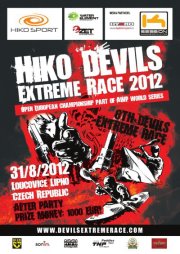 The AWP Whitewater World Series showcases the best whitewater rafters in the world. The World Series is a six stage race down some of the most challenging rapids across the United States and Europe.
Much like the NASCAR Sprint Cup, the AWP World Series champion is determined by a point total after several races. The top 30 finishers in each race receive points. First place receives 30 points, second 29, third 28, and so on.
Official AWP standings are kept under wraps until the final race, but competition has been fierce going into the Hiko Devils Extreme Race in the Czech Republic, on September 1.
During the Devils Race 2012 the Vitava river dam will be opened for twice as long as usual to increase the flow of the river to almost 400 gallons per second— pushing the limits of their abilities.
Check out this video for some of the amazing highlights from the 2011 Devils Race.
httpv://youtu.be/c1uttXVJxZA
After the boaters have survived their whitewater run in with the devil there will only be two more races left to decide who will be crowned the AWP Whitewater World Series Champion.
Complete list of AWP Whitewater World Series Races:
Stage 1: The Little White Championship (Washington State, USA) – June 3rd
Stage 2: The North Fork Championship (Idaho, USA) – June 26th – June 8-9th
Stage 3: Voss Extreme Week (Norway) – June 28th
Stage 4: Devils Extreme Race (Czech Republic) – September 1st
Stage 5: Sickline Championships (Austria) – October 4th -7th
Stage 6: Green Race / AWP Final (North Carolina, USA) – November 3rd
Image courtesy Hiko Devils Extreme Race