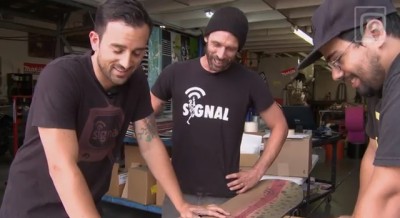 In the pursuit to downsize and make compact, versatile tools, Signal Snowboards came up with the Fly Fishing Snowboard. It's a product of the company's innovative "Every Third Thursday" program that aims to give its employees "a chance to have fun in our factory and get creative with board design and materials and just get spontaneous and come up with a theme and build it." The board may sound like an oxymoron at first, but the inventors just wanted one simple tool that didn't have to spend half of its life in storage for the off-season.
With the Fly Fishing Snowboard, there is no off-season. The inventors have combined Abel fly reels and Signal snowboards for some "reel shredding." A removable center channel becomes the fishing rod handle and spindle. A compact fish net hangs off the back of the board to allow you to scoop your fish out of the water.
What's more important here is not the practicality of the product, but how cool of a job Signal snowboard engineers have. See the making of Steve Abel's custom snowboard and to see if the board is actually effective in both disciplines.
httpv://youtu.be/91LPKZT7W6c
Image screenshot of video by NetworkA on youtube