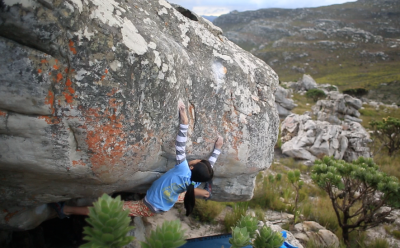 The young Japenese-American bouldering sensation Ashima Shiraishi is just finishing up a trip to South Africa to film a search for new routes, her powerful first ascents and the documenting of her third V13 climb (indicating the level of difficulty of a climb, from V0 being the least difficult to V16 being the most difficult)… all just in time to get back to school to start the 6th grade this fall. That's not a typo, Shiraishi is 11 years old.
Alexandra Kahn, Shiraishi's climbing partner and filmmaker in South Africa said in an email, "Ashima is in every way an 11-year-old. She is an incredible climber and when she is on a climb where she can reach the holds she is unstoppable, but there is an entire kid side to her."
Kahn is filming the climbing movie Chasing Winter with athletes Paul Robinson and Carlo Traversi with appearances by Shiraishi, Griff Whiteside and the filmmaker herself. The film is set mostly in Cape Town, South Africa, but also features climbing footage from Rocklands. It is in production and a release date has not been scheduled.
"The film is essentially about Paul coming here in 2011 and falling hard for Cape Town and believing in the potential for first ascents. He rallies friends from home and invites them along on his journey. Most of the climbs in the film are first ascents, second ascents, or first female ascents," Kahn writes.
At the Black Demon boulder route in Cape Town, rated a V11, the climbers completed the fifth of six documented ascents and the first female ascent of the rock. Shiraishi sped up the route and was probably the first female to do so (cleanly completed the route on her first attempt).
She is also the only female in the world to climb three V13s, her third of which was accomplished in her past few weeks in South Africa. Although she is only 11 years old, she climbs with the focus of a veteran adult climber. Kahn writes,
She is one of the smartest climbers any of us have ever seen. She knows how to approach a climb. She checks out the top out, brushes and chalks holds, looks at the current sequence, determines if she can reach, and if she can't, she looks for additional holds and chalks those up. She figures out the beta on her own and all she really ever asks for is a good spot. It's extremely impressive to watch her at her craft and it's very inspiring.
Watch the video of one of her many competitions below to see her in action and hear a few words from her coach.
httpv://youtu.be/YixG7b0g6BE
Shiraishi was born in New York to Japanese immigrants that settled in Chelsea in 1978. Her parents brought her to Central Park as a child for amusement, according to a New York Times feature on the wunderkind. When she was just in kindergarten, Shiraishi was exposed to amateur climbers scaling Rat Rock, a 15-foot tall, 40-foot wide boulder at the south end of the park. She wanted to try it too and has been practicing there ever since.
Kahn hopes that Shiraishi stays motivated and loves what she does "because it can be difficult to stick with a sport when you start so young but she has an insane amount of potential." After school starts, Shiraishi will go on a fall trip to the Red River Gorge in Kentucky, and of course, her annual climbing trip to Hueco Tanks State Park in Texas, a famous bouldering route.
Image courtesy of Alexandra Kahn