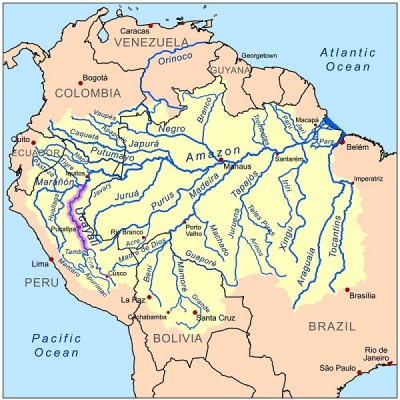 Twenty-four year old South African Davey du Plessis was paddling the Amazon River from its origins to its end when he was shot and robbed Monday in Peru.
Du Plessis was shot two times with a shotgun by two young men while kayaking on the Ucayali River, a tributary of the Amazon. He suffered wounds to his neck, spine, arm, face, chest, and head.
"He was shot at in his kayak," said his mother on his facebook page, "He fell out. Could not move his arm. They shot at him again he swam to get away. He has bullets in his spine, face, neck, skull, arms. This boy then stayed in the water thinking it's over, but an instinct made him run, he ran for about 5km to get help, he had to drag his leg and his arms had lost all feeling, he found people on the other side of the river, he tried to call for help, but no sound came out cos he had been shot in the neck.
"They eventually saw hum and wanted money to help him, he got some help, but further along he was left in about for 4 hours cos he had no money, eventually after coughing up blood, which would not stop, they got scared and helped him, they wrapped him in plastic and blankets and not sure what happened form there, all I know Davey said to me last night he thought it was all over. He said to me, he is amazed he survived and ran all that way and is safe in hospital. His face is numb, he can't hear properly, he has bullets all over his body."
His mother went on to say that it took at least 10 hours from the time du Plessis was shot before he reached a hospital.
Du Plessis has some temporary hearing loss, had to have some fluid drained from his lung, and has a pellet near his heart.
Du Plessis has been showing signs of recovery but has a long way to go.
The last post on his facebook says "Just heard from Daveys father that the schraphnel in his heart is not moving, which is good. We will get final answer from the heart surgeons in the morning, which is for me, SA time tonight, I have become nocturnal since Davey left for his adventure. Davey is allowed to eat now, so is eating like a horse. All vegan food in the hospital!!!! He has not eaten since Saturday, he is feeling much better."
Image from user Kmusser on the Wikimedia Commons