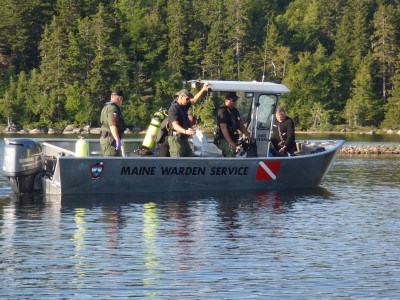 At approximately 4:30 PM yesterday afternoon, the Maine Warden Service was called to search for a missing swimmer in the town of Danforth on East Grand Lake.  Harry Dullys, (39) of New York, NY was staying with his wife at a camp on Moon Island.  Mr. Dullys was attempting to swim to Loon's Nest Island, a distance of about 200 yards.  This area of East Grand Lake is the southern portion of the lake known as "the arm."
Mr. Dullys was swimming with a labrador retriever. Dullys' wife noticed the dog continuing to the island, but Dullys could not be seen. Numerous game wardens and a Warden Service aircraft responded to the scene and conducted a search for Dullys. Late in the evening, utilizing side-scan sonar technology, wardens identified what they believed to be Dullys' body.
At daybreak today, numerous members of the Maine Warden Service Dive Team conducted a dive operation and recovered Dullys' body in 19-feet of water near Moon Island. The body was turned over to the Office of the Chief Medical Examiner. Game Warden Brad Richard is the primary investigating officer. The Maine Warden Service was assisted at the scene by Downeast EMS, Danforth Fire, and Maine Guide Mark Danforth.
Image courtesy Maine Warden Service