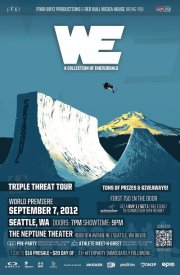 Salomon athlete, Bobby Brown, will be in Seattle for the Triple Threat World Premiere of the ski film "WE: A Collection of Individuals" hosted by Red Bull Media House in association with Poor Boyz Productions. In addition to the film screening, athletes and Salomon personnel will attend two pre-parties in salute to the film and the coming winter season.
Thursday Pre-Party at Grass Roots Outdoors:
Pre-party and official poster signing with Bobby Brown and other athletes
Where: Grass Root Outdoors 500 Everett Way, Everett, WA
When: Thursday, September 6th 7 pm – 8:30 pm
Film premiere of "WE: A Collection of Individuals" featuring Bobby Brown:
Advanced tickets on sale now at evo for $12 until 9/11, then tickets are $16. $20 tickets sold at the door.
Where: Athlete autograph session at evo in Fremont and film screening at Neptune Theatre, 1303 NE 45th St. Seattle, WA 98105
When: Friday, September 7th, 2012.
Athlete signings 3:30 – 5:00 pm at evo in Fremont
Doors open at 7pm at Neptune Theatre
Show at 9 pm with a 21+ after party
"WE" tells a compelling story surrounding the life of the modern day skier, proving that skiing isn't about the individual, but about skiing involves the influences and energy of many others. This film follows a group of the world's top skiers in search of epic powder stashes, creative urban scenes and progressive park features. Many state-of-the-art media technologies were involved while filming in this project including the high-speed Phantom Flex for super slow-motion imaging, multiple RED Epic digital cameras and POV cameras for a high-def, firsthand viewer experience.
The world premiere will feature a raffle including skis, goggles, helmets, headphones, iKicks, Tickets and much more.
About Salomon
Salomon, the mountain sports company. Salomon was founded in 1947 in the heart of the French Alps. Since then, we've been creating innovative products to enhance the performance of athletes. Performance led design is our past. Performance led design is our future. www.salomon.com www.salomonfreeski.com
About Poor Boyz Productions
Poor Boyz Productions & Distribution of Hermosa Beach, California is the creation of Johnny DeCesare. Once a former professional mogul skier and a current avid surfer, Johnny left the competitive ranks to devote his life to capturing the mind-blowing imagery of professional skiing. For the past 15 years, the Poor Boyz family has built itself on documenting the most quintessential ski moments in skiing history. Poor Boyz continues to push forward priding itself on not only being at the forefront of skiing but also on the forefront of the changing media platforms.
About Red Bull Media House
Red Bull Media House is a global media company that creates compelling sports, culture and lifestyle programming and distributes it across multiple platforms. From film to television, print to digital and games, Red Bull Media House content is optimized for any device or platform. For more information, go to www.redbullmediahouse.com
Image courtesy Outside Media