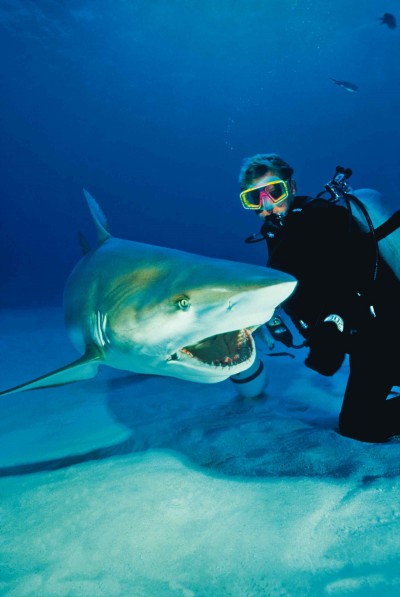 Editors of MensJournal.com have certified the shark dive program at the Bimini Big Game Club Resort & Marina as MJ Approved.
Men's Journal is an active lifestyle magazine and website with a focus on gear, adventure, travel, health and fitness, food and drink and style. Once editor tested, the magazine and website is providing its readership with a Men's Journal road-tested stamp of approval for what they deem best of the best.
This is what the editors had to say on the topic of shark dives.
Ernest Hemingway may be long gone from his Bimini haunts, but the sharks that so infuriated and fascinated him remain. Tiger sharks are common in and around the shallow waters off Bimini, reaching lengths in excess of 20-feet. Throw in hammerheads and a variety of reef sharks, and you have a Shark Encounter to be remembered.
Neal Watson, known for his superhuman record breaking scuba records, operates Neal Watson's Dive Bimini, a Big Game Club Dive Center featuring Bimini Blue, the largest, glass bottom recreational dive boat in the Bahamas.
"Bimini has no shortage of great dive sites: Reefs, Wrecks, Walls, Drift Dives, our famous Atlantis Road, a truly amazing Wild Dolphin Encounter and of course Sharks – you name it," said Watson.
On South Bimini, guests can visit the world-famous Bimini Biological Station, Shark Lab owned and operated by shark biologist Dr. Samuel Gruber. The "Shark Lab" offers internships to people interested in shark research and conservation.
To book a Shark Encounter or dive trip call Toll Free: 1-800-867-4764 or Local Number: 1-242-347-3391. For more information on the adventures at the Bimini Big Game Club Resort & Marina go to www.biggameclubbimini.com.
Image by Michael Lawrence