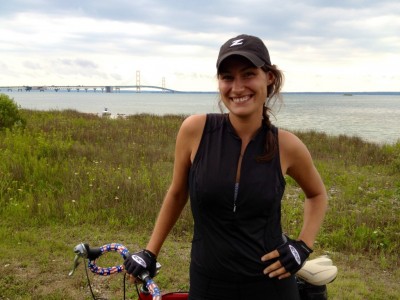 The trip may be over, but Chicago rower Jenn Gibbons isn't finished raising money for Recovery on Water (ROW).
She's only $25,000 short of her $150,000 goal to support a program that teaches breast cancer survivors how to row. She raised it by rowing 1,500 miles around Lake Michigan. And despite a sexual assault midway through the journey, she is determined to tell her story and help others learn from it.
"Today I'm on two radio stations, and I'm on a radio station tomorrow," Gibbons said Tuesday. "I will still continue to share my story and trip as long as it's helpful for ROW."
Plans are also in the works for her to appear on NBC's The Today Show. But as exciting as this media barrage may seem, it's not a natural fit for Gibbons.
"I wouldn't be a very good celebrity," she said. "It's not nearly as fun as people might think."
Gibbons may be the one on television, but she knows the trip wouldn't have happened without the strong support crew she had behind her, she said.
"I would never have done this by myself," she said. "I'm not a one-woman show."
Gibbons returned August 14, finishing her two-month journey circumnavigating Lake Michigan in a rowboat. Besides making media appearance, she's trying to relax and celebrate her return home with her family.
"All I've wanted to do was eat and sleep," Gibbons said. "It was a hard experience, a tough experience for me, but for my family too."
She's also looking for a publisher. Gibbons blogged throughout her trip and now wants to turn her experiences into a book while it's fresh in her memory, she said. Gibbons has also met with the Chicago Rape Victim Advocates to see how she can be a resource for them.
It's an organization that she feels can help her as much as she can help it. Sharing her experience will help her heal, she said.
"I beat myself up because I waited a half hour [after the attack] to call the police, and some people wait for years," she said.
She went public with the assault just days after it happened. Since then, her Facebook page has filled with inspiring comments from women, some of whom shared similar stories.
"The messages were so helpful to me," Gibbons said. "It's amazing how people shared."
In spite of what happened, Gibbons considers the trip a success, and she has advice for people inspired to plan their own big adventure.
"When I figured out what to do, I wrote to strangers and people at the top of their field for advice," she said. "Don't be afraid to ask for help; you don't need to know everything.
"You just have to know that you're passionate and willing to commit to it," Gibbons said. "If you have those things, you'd be amazed at what people will offer you."
You can still make donations to her cause by visiting www.row4row.org.
This article originally appeared on Great Lakes Echo and is republished with permission.
Images courtesy of Jenn Gibbons/ROW