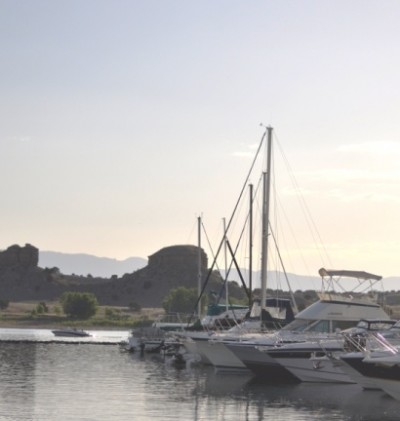 The long Labor Day weekend is coming when boating is fun for the whole family, providing a great way to cool off in while exploring lakes, reservoirs and rivers. To help boaters stay safe, Colorado Parks and Wildlife has created a boating safety video, available at the bottom of the boating safety webpage, http://parks.state.co.us/Boating/BoatingSafety/. In the video, Colorado Parks and Wildlife's Boating Safety Program Manager Kris Wahlers explains how to boat safe, boat smart and boat sober. And, Wahlers emphasizes the importance of wearing a life jacket.
Boating safe means checking all your safety equipment, especially life jackets, to make sure it is in good condition. Wahlers said life jackets provide the floatation that saves lives, especially in the chilly waters of Colorado's lakes, reservoirs and rivers.
"Last year, nine people drowned in Colorado boating accidents and five of them weren't wearing life jackets," he said. "A lot of people believe they can swim their way out of the water, but the cold water temperatures here can cause shock and hypothermia. Always buckle up."
Boating smart involves taking boating safety education classes and review sessions. The classes are open and encouraged for everyone, but required for young motorboat drivers, 14-15 years old. The classes are held across the state. To check the schedule and reserve a spot, visit http://parks.state.co.us/Boating/BoatingSafety/.
"Of all boaters involved in an accident last year, only 17 percent had any type of boat safety education," said Wahlers, who teaches many of the classes. "Taking a safety class can also lower boat insurance rates."
Play it safe on the water and boat sober. Wahlers said boating under the influence is a primary factor in almost 20 percent of all recreational boating fatalities.
"Everyone knows how dangerous it is to drive a car after drinking alcohol, but the heat, sun and other stressors of boating multiply the risks," said Wahlers. "Boating under the influence isn't just dangerous for the boat operator; it puts their passengers and everyone on the lake at risk."
Image courtesy of Colorado Parks and Wildlife