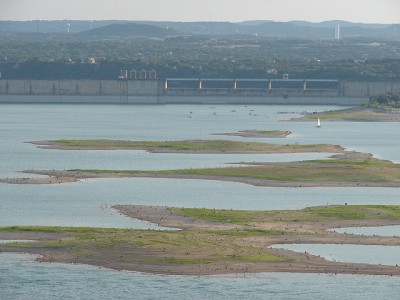 While the Mississippi River experiences its own drought-related crisis with low water levels, the lack of precipitation is especially hard-hitting in Texas. The water level of Lake Travis in Texas has dropped 28 feet below its historic average. It currently sits at 637 feet.
There is no hope in sight for the water-starved lakes. The average rainfall for the month of June in the state's capital, Austin, was only .06 inches, the fourth driest on record. Not only are crops suffering, but the boating industry and related businesses have taken a 50 to 60 percent plunge in revenue this year. Last year, they took an initial 50 percent hit. That translates to several million dollars, according to Pete Clark, owner of Carlos and Charlie's restaurant on Lake Travis.
"On your typical Saturday night we might have 200 boats parked in this area that are all up in the restaurant enjoying their time," Clark told CNBC. "Right now we can get zero into this area."
Business owners tied to the boating industry are reporting the same. Marine shops and lakeshore businesses are suffering from two years of below average rainfall. For the past four years, business has been down 30 percent at the Sail and Ski Center in Austin, said owner Buzz Watkins who has run the business for 30 years. Still, he is optimistic that the industry will bounce back and says businesses must focus on how great boating can be despite these challenges.
Image from Matthew Rutledge (rutlo) on the flickr Creative Commons