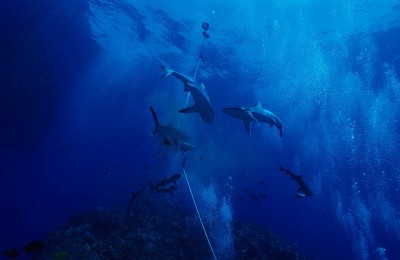 To give the general population a glimpse into the lives of marine predators, Stanford University scientists created a smartphone application that puts tracking devices in the public's hand. The goal of the free iOS app available at the Apple store is to "create a better understanding of the ocean ecosystem and promote the protection of sharks, tunas and turtles that inhabit the area," according to researchers.
Scientists hope that by using the app, called Shark Net, people will think of marine conservation on a more personal level when they actually see and follow the movements of marine animals in real time. The app displays customizable and interactive maps of the west coast, photo galleries, videos, historical tracking data and 3D interactive models.
Great white sharks and other predators are fitted with acoustic tags that will be detected by data receivers placed in the ocean on fixed buoys and self-propelled robots. The app is a part of the Blue Serengeti Initiative, named after the African Serengeti symbolizing the vast diversity and abundance of life in the ocean found in both locations, according to Dr. Barbara Block, the Stanford professor leading the project.
The Initiative installed Wi-Fi hotspots on a network of buoys and robots throughout the Pacific Ocean. When the predator passes within 1,000 feet of the data detector, it sends a notification to app users alerting them of its whereabouts.
"People realize [protecting ocean biodiversity] is important, but it's hard for them to connect on a visceral, personal level to the incredible biodiversity in their own backyard," said Dr. Randall Kochevar, one of the developers of the app, to CBC News.
Recently, a solar-powered, self-propelled robot was launched off the coast of California near San Francisco. It's a bright yellow, seven-foot long wave glider that will be an addition to the project's network of detection devices.
For now, the detection network is small. It extends from the coast near San Francisco to Monterey Bay and Tomales Point, but researchers hope to extend the network down the west coast of North America and expand monitoring to a range of marine animals including salmon.
Image from Barry Peters`(petersbar) on the flickr Creative Commons