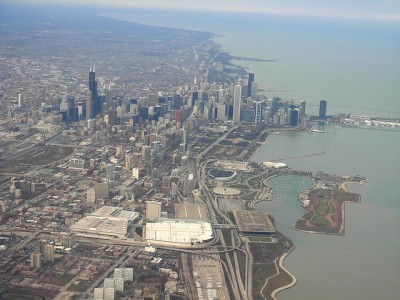 Northerly Island, a lesser-known and underkept island just one mile south of the downtown Chicago loop, will soon be undergoing a serious revamp. The lakefront park, formerly known as Meigs Field, is a 91-acre man-made peninsula that used to function as an airport. It is now a landscape of a thin layer of flat grass and prairie plants. The renovation seeks to turn it into a varied nature preserve with six different ecosystems and expand its offer of campsites.
Currently, the park district offers 320 camp sites throughout the year in Chicago. Most of these sites are on Northerly Island. By the time the city's new plan is accomplished, an additional 900 camping spots should be added to the island. Of those, 600 will be designated to family campers, while the other 300 will be fore 12- to 15-year-olds participating in the park district's wilderness camping program.
The steps to renovate the island follow architect Jeanne Gang's and landscape architecture firm JJR's plan titled the Northerly Island Framework Plan, which was developed in 2010. It is estimated it will take five years to complete. The plan details one to two years of construction, then about three years for the new plants and habitats to develop.
Renovation will begin at the south end of the island and work north. Different parts of the island will open up as they become available, said Kirston Buczak, Army Corps project manager for Northerly Island, to the Chicago Journal.
"We're working with park district to minimize the amount of time the park will be closed," she said. "As soon as we can, after the grading's done and we plant, we'll be opening the site up and fencing off the areas where the public can't walk until the plants are established."
Image from J Brew (brewbooks) on the flickr Creative Commons