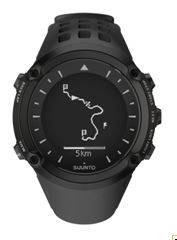 Today, Suunto announced two free upgrades to the Ambit that will take its award-winning GPS watch to a new level of functionality and technology. Since its successful launch of the Ambit in the spring, Suunto has continuously sought the views of its customers to improve the features of the Ambit. The results are two free upgrades that will add real value to the watch by ensuring it evolves with customers' changing needs.
The first update, available at the end of September via Movescount.com, will include:
On-screen route navigation
Online routes to download
Location displays in 14 local grid references
(includes US, UK and key European countries)
Plus chrono, GPS time keeping, a constant backlight and five new languages (Italian, Portugese, Dutch, Finnish and Swedish)
With this update, users will be able to download routes online or input their own waypoints. Out on the trails, users will be able to see their route in real time, including their start point, position and the route ahead.
Providing location displays in local grid references is another eagerly anticipated update for users who want to pinpoint where they are on their map.
The second launch, planned for November, will offer users new training features such as interval timer and compatibility for the Suunto Foot POD and ANT+, as well as the ability to download community-created features for even greater customization.
These upgrades are part of the Suunto promise to deliver top end navigation and training devices. For more than 75 years the Finnish company has been pioneering sports watches and instruments and encouraging its users to push their own boundaries and explore what is possible. It's a philosophy the company is proud to live by.
Suunto was founded in 1936 by Tuomas Vohlonen, a Finnish orienteer and inventor of the liquid-filled field compass. Since then Suunto has been at the forefront of design and innovation for sports watches, dive computers and instruments used by adventure seekers all over the globe. From the top of the mountain to the bottom of the sea, Suunto physically and mentally equips outdoor adventurers to conquer new territory.
Suunto's headquarters and manufacturing plant is in Vantaa, Finland. Employing more than 400 people worldwide, Suunto products are sold in over 100 countries. The company is a subsidiary of Amer Sports Corporation along with its sister brands Salomon, Arc'teryx, Atomic, Wilson, Precor, and Mavic.
Images courtesy of Outside Media