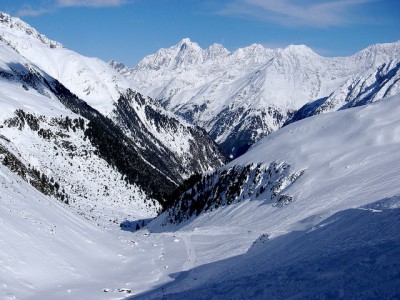 An elderly German climber has been rescued from the Austrian Alps after miraculously surviving almost one week alone in an icy crevasse. The unnamed 70-year-old climber was supposedly standing on a crevasse covered by snow when the ground gave way underneath him trapping him 66 feet (20 meters) below on a ledge inside the crevasse.
He fell between 10 and 15 meters (32 and 49 feet) into the crevasse and was resting on a ledge when rescuers found him Tuesday, according to the Austrian Independent. He was climbing alone without crampons up Schrankogel, a mountain in the Stubai Alps in Tyrol at around 3,000 meters (9,843 feet) above sea level when he fell. Other passing climbers heard his screams for help and alerted authorities. Rescuers were able to pull him out with the use of a pulley.
Suffering hypothermia and exhaustion, he was airlifted to Innsbruck hospital after rescuers determined his status at the scene.
"It is a sensation that he survived there for a week," police said. "He was very lucky."
Austrian authorities are now trying to verify his story and determine how he was able to survive so long.
Image from Jean & Nathalie on the flickr Creative Commons