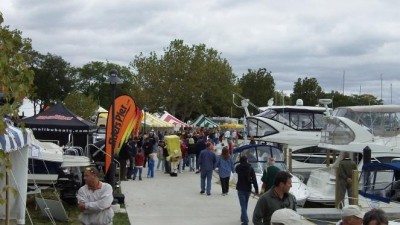 Recent studies show marine expenditures in Michigan increased nearly 30 percent in 2011 compared to 2010. Ranking third in the nation, Michiganders spent $454 million last year*. And with the consistently low gas prices and exceptionally warm weather this summer, 2012 is on track to exceed that growth!
"We've heard a lot of optimistic news coming from marinas on boating activity and from dealers who are selling boats this summer," said Michigan Boating Industries Association (MBIA) President John Ropp. "There's a renewed positivity state-wide and measurable growth in our industry – it's great to see," he said.
Michigan ranks 3rd in national boating registrations with more than 949,000 registered, according to the Michigan Secretary of State, equating to approximately 4 million boaters. With more than 11,000 lakes and 3,288 miles of coastline, Michigan has the longest fresh water coastline in the US. Those looking to access more than 700 water access sites can find information on boatmichigan.org or from the Michigan Department of Natural Resources.
Coming September 20-23, MBIA will produce the Boating & Outdoor Festival at Lake St. Clair Metropark. Exhibit space is selling fast, as the main Boardwalk is nearly sold out and bulk space is trending up from 2011. The Boating & Outdoor Festival features hundreds of boats up to 60 ft. in length on display and for sale. Fall is the time for in-water boat shows and an important sales time for dealers. Many throw in winter storage with the sale of a new boat  and end of the season deals on product they want to move before the winter. In-water shows offer an opportunity to check out the boats while they are on the water, a different perspective than winter indoor shows. More information on exhibiting and promotions is available on the show website: www.boatingandoutdoorfest.com.
The Boating & Outdoor Recreation Festival is produced by the Michigan Boating Industries Association (MBIA). The festival, located at Lake St. Clair Metropark, will be held September 20-23, 2012.  
Hours: Thurs., Fri.: Noon – 8PM, Sat.: 11AM – 8PM and Sun.: 11AM – 6 PM. For more information, current promotions and contest information, visit BoatingandOutdoorFest.com. 
Admission: $9 for adults, children 12 and under free with an adult.  Parking is $5 – or free to those with a Metroparks permit.  General park information can be found at www.metroparks.com or by calling 1-800-47-PARKS.
MBIA is a non-profit Association dedicated to the advancement, protection and promotion of the recreational boating industry in Michigan, representing nearly 300 marine businesses. The boating industry in Michigan represents a $3.9 billion industry, with more than 758 marinas, 460 marine dealers and more than 51,000 jobs. For more information go to www.mbia.org.
*Source: National Marine Manufacturer's Association
Image courtesy of the Michigan Boating Industries Association