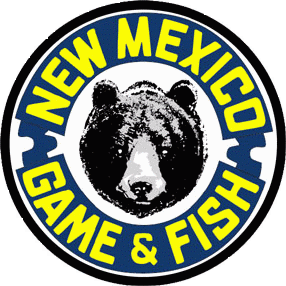 The campground, picnic area and fishing access to the Pecos River on State Game Commission property at Terrero will be closed from 5 p.m. Friday, Aug. 17 through 8 a.m. Saturday, Aug. 25, the Department of Game and Fish announced.
The temporary administrative closure will affect only the commission-owned property on the west side of the river at Terrero. All other commission properties, including the Bert Clancy, Mora and Jamie Koch areas, will remain open. Anglers and campers also will find plenty of fishing access and camping opportunities on U.S. Forest Service lands in Pecos Canyon.
For more information, please visit the Department website, www.wildife.state.nm.us or call (505) 476-8000. Information about U.S. Forest Service lands and campgrounds is available by calling (505) 757-6121.
Logo courtesy of the New Mexico Department of Game and Fish