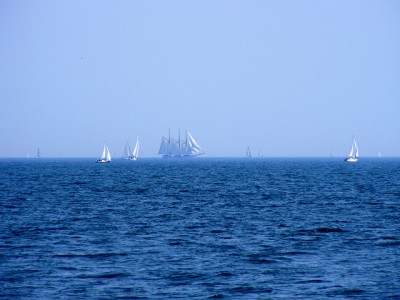 Open water swimmers made a bucket list this year of the hardest swims in the northern hemisphere and only one Great Lake made it: Lake Ontario.
Unpredictable changes in wind direction and water temperature and significant currents that vary in speed and direction make Lake Ontario one of the world's more difficult swimming venues, according to Open Water Source, an organization that reports on and advises open water swim event worldwide.
Any swim in an open body of water is considered an open water swim.
The list was put together by Open Water Source founder, Steve Munatones, a national open water swimming champion, former coach of the U.S. open water swimming team, and NBC Olympic commentator for today's 10k marathon swim.
The list is part of his mission to define the sport. To make it, several conditions were considered.
They include distance, extreme temperatures and rough waters, Munatones said in an e-mail interview hbefore leaving for the London Olympics. "However, the swims must be within the capabilities of elite open water swimmers.
"In other words, 'swimming across the Pacific Ocean' is not a reasonable goal and not included in the list," he said.
Lake Ontario is one of 15 swims on the list. For Munatones, the "fickle" nature of the lake makes it stand out.
"Winds can come up quickly and water temperatures can drop quickly," he said. These rapid changes create turbulence and extreme water conditions for the swimmer.
Despite the tough conditions, a growing number of people swim Lake Ontario. That's an exciting change for Rob Kent, founder and president of the Lake Ontario Swim Team (L.O.S.T.). He started the group in 2006 while training to swim the English Channel.
His choice to train in Lake Ontario raised eyebrows.
"People thought I was crazy to do training on Lake Ontario," Kent said. "Literally, I knew nobody who swam in it besides people splashing around on the beach."
That skepticism didn't deter Kent's enthusiasm for swimming in the 11th largest lake in the world.
"It's a fantastic place to swim," he said.
With that verve, he created the Lake Ontario Swim Team. Initially he was the only member when he started weekly Saturday morning swims. Eventually six to eight other people joined him. Last Saturday a record 86 people participated and membership has grown to over 200 people.
Kent attributes the rise in open water swimmers to the increasing popularity of triathlons and to marathon swimming becoming an Olympic sport in 2008.
As often as he is in the water, Kent isn't complacent about the difficulty of swimming in Lake Ontario. He ranks the lake as one of the top five most difficult of the world's swimming majors. The majors is another list of the top marathon swims in the world that he and Munatones created.
"What Lake Ontario is known to do is roll over," Kent said. Winds pick up and cause the warm water on top to circle down to the bottom, pushing the colder, lower-level waters to the top.
Kent saw the water drop from 78 degrees last Saturday to 61 degrees by Sunday morning.
"When that happens and you're swimming across the lake, it's disastrous," he said.
It's the kind of disaster that makes Lake Ontario legendary.
For decades in the early to mid- 1900s, the lake was home to the world-renowned 32-mile Canadian National Exhibition marathon swim race. In 1964 rapidly changing conditions on the lake made it impossible for the best marathon swimmers from around the world to finish.
It's a race George Park, a Canadian swimmer in the 1956 Olympics remembers vividly.
"A northeast wind came up and blew the warm water out," Park said. "No one finished that year because it was so cold."
Park was pulled out of the water, knocked unconscious from the cold, he said.
He and the other racers failed because they swam in a lake that experienced a 30 degree drop in temperature in less than 15 hours.
When Park and other racers entered the water in Port Dalhousie, Lake Ontario was 72 degrees. About halfway through the swim to Toronto, water temperatures dropped into the 50s. By the time the last racer quit, the water in Toronto was 42 degrees.
Park has his own opinion on why swimming Lake Ontario is so difficult – wind direction.
"If it's blowing in-shore to Toronto there's warm water," he said. "Off-shore from Toronto is cold water."
Despite the dramatic temperature changes, Park doesn't think marathon swimmers should wear wetsuits.
"It's not a feat to do it in a wetsuit, in my opinion," he said.
While Kent describes himself as a "purist" when it comes to foregoing wetsuits, he includes wetsuit wearers and "naked" swimmers in his weekly swims. For him it's about participation. He wants everyone to experience swimming in the open water, even with its dangers.
"Open water swimming is to pool swimming what trail running is to tread mill running," Kent said. "It's so much more enjoyable, more interesting, more fun than laps in the pool.
"If I had my druthers, I would always want to be in the open lake."
The 2012 10k Olympic marathon swim started August 9 with the woman's competition. The men compete on Friday August 10.
Republished with permission from Great Lakes Echo.
Image from Cassandra Jowett (cassandrajowett) on the flickr Creative Commons, Image from George O'Neill on the flickr Creative Commons