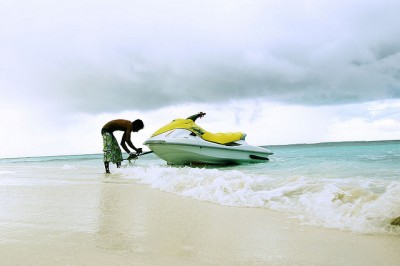 If you've had the unfortunate experience of having an expensive watercraft stolen from you, you may find comfort in the fact that you are not alone. In fact, you are far from it. Aside from the usual questions that arise about whether your boat or Jet Ski was properly secured, perhaps one thing to ask yourself is whether you were predisposed to theft based on your location.
A recent report from the National Insurance Crime Board (NICB) analyzed and compiled watercraft theft statistics from across the country. Unsurprisingly, most watercraft thefts occurred in coastal states and cities and personal watercraft (such as Jet Skis) were the most-frequently-stolen vessels. In total, there were 6,090 reported watercraft stolen in 2011.
The the top 10 cities with the most thefts were:
Miami, Florida – 210 thefts
Fort Lauderdale, Florida – 59 thefts
Marathon, Florida – 50 thefts
Tampa, Florida – 48 thefts
Houston, Texas – 41 thefts
Sacramento, California – 40 thefts
Seattle, Washington – 40 thefts
Hialeah, Florida – 35 thefts
Phoenix, Arizona – 34 thefts
West Palm Beach, Florida – 33 thefts
Florida was the leading state for thefts, with 1,332 reports of stolen watercraft. The state with the second-highest number of thefts, California, reported only 550 thefts. The next states were Texas with 437, Washington with 437 and North Carolina with 205. Forty-nine out of 50 states reported thefts, Hawaii being the one state with no reports.
The report contains many other interesting statistics for people who enjoy getting their outdoors fix on the water. These include the 10 brands of watercraft that are most likely to be stolen in 2011:
Yamaha – 537 thefts
Bombardier – 522 thefts
Kawasaki Motors Manufacturing – 196 thefts
Alumacraft Boat Co – 148 thefts
Bayliner Marine – 129 thefts
Starcraft Marine – 114 thefts
Tracker Marine – 102 thefts
Lowe Industries – 86 thefts
Old Town Canoe Co – 86 thefts
Polaris – 80 thefts
One positive thing the report found is that boat thefts fell by nine percent since 2010. In that year, there were 6,663 reported watercraft stolen, 573 more than in 2011. View a copy of the report for yourself here to find out more (pdf).
The NICB recommends the following tips to help protect your watercraft from theft:
When you dock it, lock it and secure it to the dock with a steel cable
Remove expensive equipment when not in use
Chain and lock detachable motors to the boat
Do not leave title or registration papers in the craft
Disable the craft by shutting fuel lines or removing batteries
Use a trailer hitch lock after parking a boat on its trailer
Install a kill switch in the ignition system
Image from Nattu (nattu) on the flickr Creative Commons