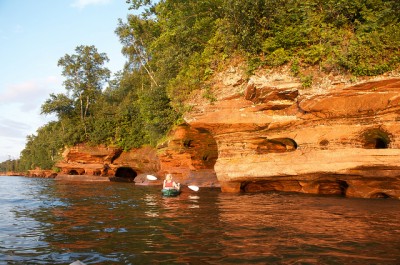 Adventurous kayakers often get to experience beautiful places that are otherwise unreachable by any other vessel. Yet, for the price of witnessing this beauty, some have paid with their lives. Two kayakers were killed on August 6 in Lake Michigan off the shores of Berrien County, Michigan when waves were six to eight feet high. Earlier in March, another Lake Michigan kayaker died under similar circumstances.
Those exploring sandstone cliffs bearing a collection of sea caves are especially vulnerable when the waves start to crash against hidden passageways. Many lives could have been spared if there were a safety device that warns kayakers of impending dangerous conditions. Great Lakes Echo reporter Matthew Hall writes about one such system that was developed to do just that.
Original report issued by Great Lakes Echo on August 8, 2012:
By: Matthew Hall
An automated system that reports the height of waves over the Internet could help save the lives of Great Lakes kayakers and other water enthusiasts.
The Real Time Wave Observation System reports wave information in real time, warning potential kayakers and swimmers of dangerous conditions.
The system was first implemented in 2009 at the Apostle Islands National Lakeshore in Bayfield, Wis., where a number of kayaking deaths had prompted officials and scientists into action.
"That's really what prompted the project," said Gene Clark, an organizer of the project and a coastal engineering specialist with the University of Wisconsin Sea Grant Institute.
A sensor attached to a submerged buoy measures wave oscillations.
"The sensor is very simple…the recordings that it's measuring run through a cable to something on land which is powered with solar cells," Clark said. "(It's) just a simple modem with a booster, to a cell phone tower and from there it can go to a website or a smart phone app."
Kayakers, canoeists, sailors or swimmers can then check wave conditions before heading to a park.
The Sea Caves Watch program is a collaboration of the University of Wisconsin, the National Oceanic and Atmospheric Administration and other groups.
The region is a popular destination for kayakers.
But the system could be used elsewhere, Clark said. A goal of the program was to create a template for similar efforts.
Park officials at Great Lakes beaches, kayakers and kayaking business owners agree that the system has exciting potential.
"It would be awesome," said Lori Eschenburg, planner for the St. Clair County Metropolitan Planning Commission, which helps administer Blueways of St. Clair. That's a Lake Huron water trail project from Anchor Bay to the northern border of St. Clair County. "I don't know how much it costs…but anything that would save lives or make a sport safer is welcome," Eschenburg said.
Others agree.
"Sounds like a good resource," said Sam Raymond, proprietor of the Keweenaw Adventure Co., a kayaking outfitter near the Keweenaw Water Trail in Copper Harbor, Mich. "I'd have to see more about it but it sounds like it could be a valuable tool."
Some park officials wondered if swimmers could get tangled in the submerged buoy on heavily-trafficked beaches.
"We're a very busy beach," said Joyce Rhodes, supervisor of Grand Haven State Park in Grand Haven, Mich. "At our swimming beach, every inch is used."
Others worry about the expense relative to need because local budgets are often strapped for funds.
"We don't have quite the same degree of conditions that they would out on the open coasts (like the Apostle Islands)," said Lauren Vaughn, parks and recreation superintendent for Traverse City, Mich. "It would have to be pretty inexpensive. The only direction we get waves is pretty much straight out the north, northwest and anything east or west is pretty much buffered by the peninsulas."
But it is still worthwhile for many beaches according to Chin Wu, professor of civil and environmental engineering at the University of Wisconsin and a collaborator on the technology.
"The system costs roughly $7,500 to $10,000 depending on selected configurations and features," Wu said.
And the equipment can be located safely. The cable itself can be laid out carefully on the lake bottom, or a wireless system could be used, he said.
"I am fully convinced that the system would be ideal to provide wave climate on beaches," he said.
Despite the potential and the promise, the technology hasn't been seen in other areas yet, according to Bob Krumenaker, National Park Service superintendent at the Apostle Islands National Lakeshore and the originator of the idea for the project there. And there is the additional challenge of how beaches or water trails will get the technological support they need to maintain each system, he said.
Article reprinted with permission by Great Lakes Echo.
Image from Tim Wilson (TimWilson) on the flickr Creative Commons