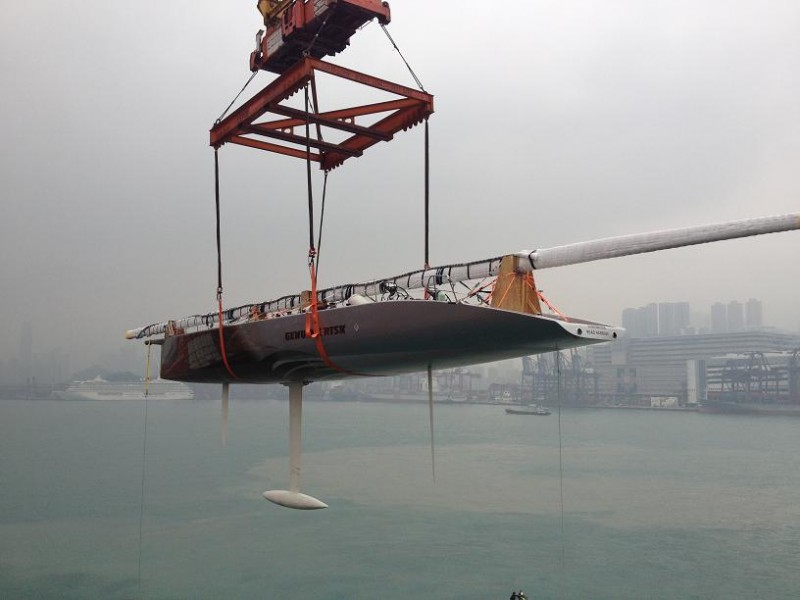 The Asian yacht market has grown dramatically in recent years, and with this growth comes an increase in the number of new boat shows and marinas displaying internationally renowned brands. Yacht owners are now enjoying their yachts all around Asia and are no longer restricted to the busy marinas in Singapore and Hong Kong. Peters & May is the only specialist boat transport provider to have offices across Asia, making it perfectly positioned to assist yacht owners, brokers and dealers in this complex and growing market.
As a result of this growth, the demand for yacht shipping is growing too. Destinations are becoming more diverse and the assumption that yachts are only transported into Asia and then remain static is just no longer the case. Yachts are being imported into Asia and are often transported several times within Asia or away from Asia and back again.
For example, Peters & May recently discharged a yacht in Dalian, Northern China, which was then transported to Haikou, the southernmost island in China. It is becoming increasingly common for yachts discharged in Hong Kong to be destined for the Philippines, Singapore, or Malaysia.
The Asian yachting market is no longer isolated to luxury marinas and the paradisiacal shores of South East Asia. More and more owners are meeting their yachts in areas of Asia that you would not initially think of. A yacht on a lake in Mongolia, thousands of miles away from the port where it first entered Asia is quite a sight, and indicates that the playground of yacht owners in Asia is much wider now than ever in the past.
Yacht racing is another growth market in Asia, with interest from dinghy classes looking for warm climes to host international events, through the Volvo Ocean Race stopovers and America's Cup World Series teams. Peters & May has been closely affiliated with the best yacht racing teams for many years and looks forward to rewarding these loyal clients with a first class service when they need to navigate the technically complex procedures involved in importing to and exporting from Asia. With 4 offices around Asia, Peters & May is the only boat transport business to have experienced staff on the ground and ready to help.
The boat transport industry in Asia is no different than any other market in this region; customers value quality of service, experience and personal relationships above all else. Yacht owners and dealers in Asia, like the rest of the world; appreciate the knowledge and personal service that Peters & May affords all its clients. In order to provide the highest level of efficiency, Peters & May Asia has conducted a complete screen of the services available on each route into, around and out of Asia and can find the best match between the dimension of a particular yacht, the clients' timeframe and the types of carriers available.
While shipping solutions are not yet as abundant in Asia as they are in other parts of the world, they are often a preferred option to guarantee the timely arrival at a boat show or holiday destination, or to avoid the wear and tear, engine hours and potential risk of piracy associated with a skipper delivery. Having a team of people on the ground across Asia ensures that Peters & May can offer the very best service, local advice and a personal welcome to all the new and returning yacht owners in Asia.
Images courtesy of Peters & May