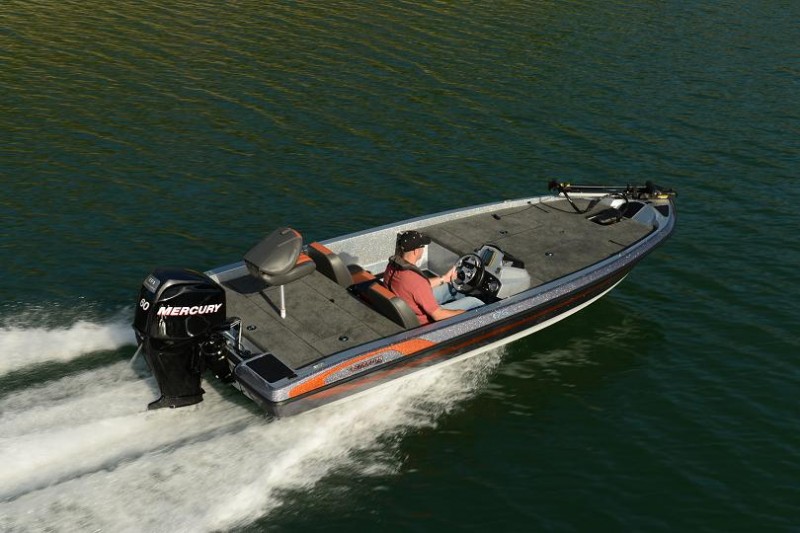 In 2007, Stratos asked boat buyers why they would settle for an aluminum boat when they could have a more stable fishing platform for less money. That message resonated with boat buyers, who soon made the Stratos 176XT the best-selling boat in its class. Reinforcing those early accolades, the new Stratos 176 VLO brings added features and new technology to the 17-foot boat market, continuing its dominance over aluminum offerings while also giving bass-boat buyers the look and feel they want, starting as low as $14,995.
Measuring 17 feet, 6 inches, the Stratos 176 VLO is rated for a maximum 75 horsepower and available with a host of precision-matched, factory-rigged outboards. The industry's most accessible blend of fishing features and proven performance, the new 176 VLO is built upon a proven hull design that delivers a smooth, dry and efficient ride. Above the water, the new Stratos 176 VLO continues to shine, packing a lengthy list of fishing features that will have anglers feeling like they've done anything but settle.
"The Stratos 176 XT was designed to give a fiberglass option to those people who thought they could only afford to run aluminum boats. It did everything that the aluminum boat could do – only better and with more stability." said Stratos Brand Manager Jason Bragg. "With the total redesign of the boat, the 176 VLO not only continues the legacy of being a better option for aluminum boat buyers but bass-boat buyers as a whole."
The redesigns that make the 176 VLO begin at the rail, which has been raised to add more interior depth and enhance fishability. The bow design, which echoes that of the Stratos 189 VLO, features an offset space for flush mounting graphs with screens as large as five inches. Thanks to the offset design of the flush mount, instances of trolling motor cables blocking the screen are virtually eliminated. In addition to a recessed trolling motor, the front deck also offers lockable storage on the port and starboard sides, plus a center rod locker, which can store eight rods up to 7 feet in length.
At the helm, drivers will find a sleek, aggressively designed console with a full complement of gauges and space for flush mounting electronics with screens as large as 7 inches. Available in single- and dual-console configurations, the consoles are offset from the gunnels to allow space for longer rods resting on the front deck. The custom layout also includes an integrated center bench seat that folds forward to reveal extra storage and doubles as a secure foot step to aid in transitioning from the cockpit to the rear fishing platform. The cockpit itself is covered in an all-weather, rubberized non-slip surface – easy for cleaning and available with snap-in carpet as a custom option.
The Stratos 176 VLO helps anglers maximize their time by staying organized, thanks to the host of integrated storage options found throughout the vessel. In addition to the front-deck and fold-down seat storage, the rear deck also offers two addition storage compartments, while side pockets are integrated into the cockpit walls – ideal for keeping go-to baits and other necessities.
Equipped with a 21-gallon fuel tank, the Stratos 176 VLO also comes standard with a Humminbird Piranha Max 160 at the console, a Minn Kota Edge trolling motor, on-board charger and an oversized, aerated livewell.
The Stratos 176 VLO comes paired with a custom-built, single-axle trailer. Designed to perfectly match the boat, Stratos trailers are equipped with a super-tough "Road Armor" protective finish; submersible lights and individually balanced wheels. The trailers also feature swing jacks that retract flush to the frame and locking, swing-away tongues.
2013 STRATOS 176 VLO

Overall Hull Length: 17 feet, 6 inches
Beam: 84 inches
Maximum HP: 75
Fuel Capacity:  (1) 21-gallon tank
Total Persons/Motor/Gear: 1,100 lbs.
Approx. Boat Weight: 1,200 lbs.
Logo courtesy of Blue Heron Communications