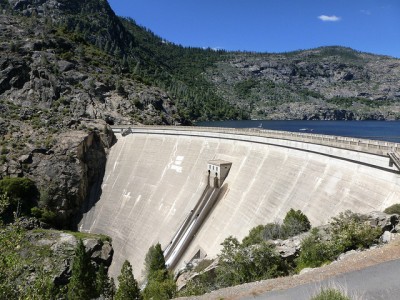 Visitors to the picturesque Yosemite National Park could soon have another thing to place on their must-see list if a controversial proposal to drain a Californian reservoir gains support from San Franciscans. Voters will decide this fall whether to formulate a plan to drain the 117-billion-gallon Hetch Hetchy Reservoir, revealing a glacially carved, granite-ring valley of waterfalls, or to leave it be. Opponents of the proposed draining highlight the reservoir's position as the main source of drinking water for San Francisco and the attendant O'Shaughnessy Dam's power generating capabilities.
The submerged Hetch Hetchy gorge, described as Yosemite Valley's twin, sits only 17 miles north of the valley and is similar in geology. The O'Shaughnessy Dam was built 89 years ago in 1923 at the cost of $100 million and 68 lives, according to a timeline on HetchHetchy.org.
Environmentalists and Republican lawmakers want the dam removed and the valley restored, including Ronald Reagan's former interior secretary Donald Hodel, who first proposed restoring the valley in 1987. Democratic San Franciscans led by Sen. Dianne Feinstein and Rep. Nancy Pelosi want to dam to remain in place to "hold onto the city's famously pure drinking water in a drought-prone state," as quoted by the Associated Press.
San Francisco Mayor Edwin Lee said "this is a ridiculous idea. It's a Trojan Horse for those that wish to have our public tricked into believing we have an adequate substitute for the Hetch Hetchy Reservoir. We do not. There isn't any."
Sen. Feinstein was San Francisco's mayor in 1987, when proposals first emerged to remove the dam. She argued that the cost to remove the dam is too high and that replacing the water supply is impossible, which is much the same argument used by opponents of the removal now. "Replacing the water supply is unrealistic when California already lacks infrastructure to provide enough water for its economy or environment," Feinstein said. "We should move past this debate and focus on real solutions to California's water challenges."
In addition to its water supplying capabilities, the dam generates a significant amount of hydroelectric power. City water officials said the curved gravity dam supplies energy to 7 percent of California's population in water and electricity at a cost approximately $30,000 a year. Politicians say San Francisco is getting this energy for a steal and that rent on the Hetch Hetchy valley, determined by the Raker Act in 1913, should be increased.
Those in favor of removing the dam admit to the great cost that will be undertaken by California residents in terms of financial and energy loss. The Hetch Hetchy group said the city would lose 20 percent of its kilowatt power-generating capacity, currently at 1.7 billion kilowatts. The City of San Francisco said it would lose twice that much, which would cost the city $41 million.
Opening up the dam would restore a valley carved by glaciers with evidence of lava flows from centuries ago and some waterfalls to hikers and visitors to Yosemite National Park.
Yet, in the interest of protecting the national parks, Spreck Rosenkrans of Restore Hetch Hetchy, who has been studying the issue for 20 years said the dam must come down eventually. "San Francisco is known as a progressive city in many ways, especially environmentally. But in water, it's just not the case. We've got a very sweet deal," said Rosekrans to the Associated Press. "Restoring the valley would undo the greatest wrong that has ever been done to a national park."
The ballot proposal that San Franciscans will vote on in November will only determine whether city officials should formulate "a modern water plan that incorporates recycling and study expansion of other storage reservoirs to make up the loss". Following the development of a plan, the citizens of San Francisco would vote again on whether to move forward with the plan to drain the reservoir and restore the valley.
Image from brian washburn (mellow cat) on the flickr Creative Commons