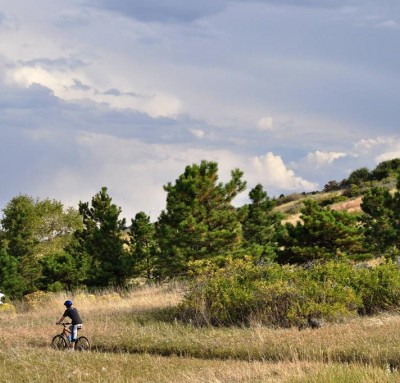 The Lory State Park Mountain Bike Challenge kicks off its four-week run on Tuesday, Aug. 7 with races for youngsters and adults around the park. The races, co-sponsored by the non-profit Ciclismo Youth Foundation, are the highlight of the grass-roots mountain bike season.
The Lory Mountain Bike Challenge held four consecutive Tuesdays in August – Aug. 7, Aug. 14, Aug. 21 and Aug. 28 – includes three races for youngsters under eight years old through high school, plus four adult categories. The mountain bike courses vary in length, depending on the rider's skill level.  Registration, held at the Soldier Canyon Area, runs from 4:30 p.m. to 5:45 p.m.  Youngsters under 18 race free and adults pay $10, with all proceeds benefiting the Ciclismo Youth Foundation, which promotes and creates youth cycling opportunities in the community. The races start at 5:45 p.m.
Volunteers will direct participants where to park.  Car pooling is strongly encouraged.  Most participants and spectators will be directed to the parking lots near Soldier Canyon and along the frontage road to allow the park staff to safely manage all cars and keep parking away from the race area.
Lory State Park, located in beautiful Bellvue and offers visitors a variety of rugged terrain and the stunning vistas of the northern Colorado Front Range. The park covers almost 2,600 acres and features 26 miles of trails that lead through forest, meadows and rock-outcroppings, offering visitors great terrain for mountain biking, hiking, rock climbing, bouldering, and horseback riding. Additional information on Lory State Park is available at: www.parks.state.co.us/Parks/Lory.
Image courtesy of Colorado Parks and Wildlife