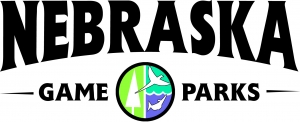 Three agencies are investigating two boating incidents that took place at Lake McConaughy on Friday night when a thunderstorm blew over Nebraska's largest reservoir.
The Nebraska Game and Parks Commission, Keith County Sheriff's Office and the Keith County Attorney are investigating the disappearance of a 37-year-old Colorado man, who was last seen by witnesses paddling a raft when he capsized and disappeared. The search continues with the cooperation and support of dive teams from Kearney, Sutherland, Imperial and Lake McConaughy.
The agencies also are investigating a nonfatal injury incident. Dwight Hatch, 69, of Ogallala, was treated and released for injuries after he was trapped between two beached motorboats. The incident occurred about 8 p.m. Mountain Time when high winds caused the motorboat owners to move their boats.
Boaters always should be aware of changing weather conditions.
Logo courtesy of the Nebraska Game and Parks Commission