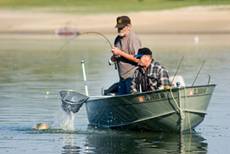 While the drought has forced many reservoirs to close to boating,North Sterling State Park remains open to boating. The lake has been dropping and the Elks Boat Ramp is closed, said Park Manager David Piper, but the South Boat Ramp is still open and has about twenty feet of water on it, ensuring the lake will stay open to boating for a while.
"The fishing at North Sterling is the best that the park has offered in eight years," said Piper. "With good fishing and water levels high enough to boat, now is a good time to get out and enjoy the reservoir before the summer is over."
Colorado Parks and Wildlife was created by the merger of Colorado State Parks and the Colorado Division of Wildlife, two nationally recognized leaders in conservation, outdoor recreation and wildlife management. Colorado Parks and Wildlife manages 42 state parks, all of Colorado's wildlife, more than 300 state wildlife areas and a host of recreational programs. To learn more about Colorado's state parks, please see: http://parks.state.co.us. To learn more about Colorado's wildlife programs, please see: http://wildlife.state.co.us.
Image courtesy Colorado Parks and Wildlife