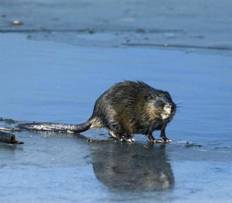 The Rifle Gap State Park Complex is offering programs for adults, families and youngsters through the summer with hikes, nature programs and other fun activities to connect kids and adults with nature and the outdoors. The programs are held at Rifle Gap, Rifle Falls and Harvey Gap State Parks. Please join us for this week's free, fun programs. All children must be accompanied by an adult.
All programs are free, but all vehicles entering the park must have a daily pass, $7, or an annual pass, $70. For additional information, please call 970-625-1607. The programs may be canceled if there is lightning or rain. The Aug. 11-12 programs are:
Saturday, Aug. 11
Leave it to the Beaver! Meet at Rifle Falls' Trailhead for Squirrel Trail at 10 a.m.
Take a short hike along Squirrel Trail with the park naturalist to learn about the modern engineering that our beavers make. This trail has limited elevation gain and is only .5 miles in length. Wear your sunscreen and bring some water.
Got Bats? Meet at Rifle Falls' Wildlife Gazebo, 1 – 3 p.m.
Join the park naturalist at the interpretive table to explore the bats of Rifle Falls State Park.
Meet me "On the Dark Side of the Moon." Rifle Gap State Park, 8:30 – 10:30 p.m.
There's no dark side of the moon really. Matter of fact, it's all dark! Come join our special guests David Copley, Ricky Smith, Tom Burrows and other members of the Western Colorado Astronomy Club in Grand Junction as they explore the planets and the solar systems in our night sky. View these magnificent creations in detail through telescopes as the night passes. Bring lawn chairs or blankets. Please be courteous to other guests in the camping area by parking away from the presentation area and limit your use of flashlights.
Sunday, Aug. 12
Animal Tracks Bingo at Rifle Gap State Park Swim Beach at 11:30 a.m.
Play bingo and learn to identify the paw prints of animals that live in Rifle Gap, Rifle Falls State Park and Harvey Gap State Park.
Beach Blanket Bingo at Harvey Gap State Park Swim Beach at 1 p.m.
Travel back to 1965 with Frankie Avalon and Annette Funicello and learn about one of our favorite residents of Rifle Gap State Park Complex – the beaver. Put on your sunscreen, beach hat, sun glasses and a pair of flip flops to play "Beach Blanket Bingo."
Colorado Parks and Wildlife was created by the merger of Colorado State Parks and the Colorado Division of Wildlife, two nationally recognized leaders in conservation, outdoor recreation and wildlife management. Colorado Parks and Wildlife manages 42 state parks, all of Colorado's wildlife, more than 300 state wildlife areas and a host of recreational programs. To learn more about Colorado's state parks, please see: http://parks.state.co.us. To learn more about Colorado's wildlife programs, please see: http://wildlife.state.co.us.
Image courtesy Colorado Parks and Wildlife