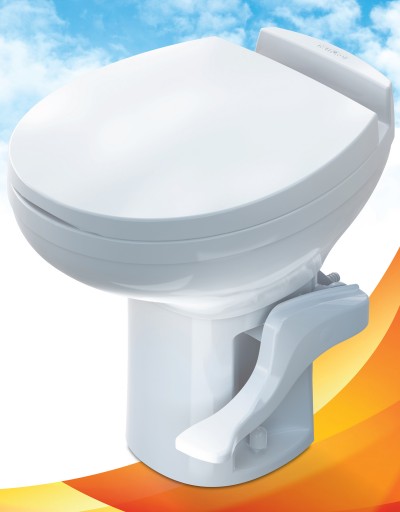 The leader in RV sanitation, Ann Arbor, Michigan-based Thetford Corporation, introduces the Aqua-Magic Residence. This new residential-sized RV permanent toilet adds modern style and homelike comfort, yet is still lightweight.
"We're really excited to introduce Aqua-Magic Residence to our comprehensive toilet lineup," said Andy Bialorucki, Thetford's director of marketing.  "Many consumers have requested the features it provides, including a contemporary look, residential-sized seat and being lightweight, and it exceeds expectations."
The high-profile Residence features a comfortable, ADA-compliant 18″ seating height to make sitting down and standing up easier.  The high-profile model weighs only 9.5 lbs., while the low-profile model weighs just 8.25 lbs.
Residence has a contemporary seat for optimal comfort. Its cover is strong enough to sit on and has a convenient built-in lift slot. Seat and cover can be easily removed for customizing.
Delivering a powerful flush, Residence provides superior bowl coverage and its ball valve wipes clean with every flush.  The mechanism is designed to maximize flush performance and eliminate potential trap issues.
Easy-to-use, Residence provides single-pedal convenience.  Users press the pedal halfway down to add water and all the way down to flush.
Mounting and connections are engineered for accessibility and quick installation.  For added strength and durability while eliminating squeaks, the bowl and base are bonded together using polymer welding technology.
In addition to high and low profiles, Aqua-Magic Residence is available in white and bone colors.
Thetford, which will celebrate its 50th anniversary next year, is the world's leading supplier of sanitation and refrigeration products for the RV, marine and heavy-duty truck industries. It is a privately-held company with eight manufacturing facilities in four nations.
Thetford subsidiaries include Norcold, America's leading maker of gas-absorption refrigerators and freezers for the RV, marine and truck markets; Tecma, a producer of fine-china toilets and powerful waste-transfer systems based in Italy; and Thetford UK, a unit in England that manufactures Spinflo-brand, high-quality cooking and heating appliances, as well as accessories.
Image courtesy Martin Flory Group