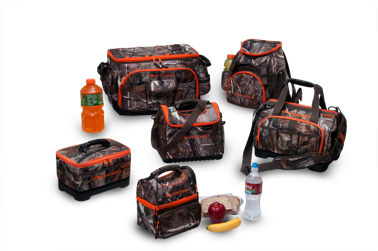 Igloo Products Corp., the nation's largest cooler manufacturer, has expanded their Realtree Camouflage collection of soft sided coolers. The Realtree Camouflage collection is now available with patterns and colors that any serious sportsman or sportswoman would enjoy.
These insulated bags and rolling coolers are offered in classic Realtree camouflage with safety orange zippers and accents and in Realtree Pink with brown accents. "We wanted our coolers to have camouflage patterns that are really functional when you want them to be and still fashionable the rest of the time," explained Igloo Product Manager Melissa Poole.
The Realtree collection doesn't just look like it belongs outdoors; it's made for it. The rugged, insulated bags feature ergonomic, rubberized comfort grip handles and 25 percent more foam so contents stay cooler longer. Outfit the whole crew, with sizes varying from a small 8 can tote, to the 58 can Cool Fusion with wheels.
The personal sized Meal to Go and Mini Tote are great for everyday use.  The larger Cooler Tote and Shopper Tote have room for several drinks and snacks and are perfect for a lunch at the park with family or several hours in the deer blind.
For day trips or larger crews, the Tool Bag, Backpack, Gripper, and Hardtop Gripper offer between 18 to 24 can storage. Most have external, zippered storage, offering quick access to frequently used items. The Cool Fusion is outfitted with wheels and a locking, telescoping handle for towing heavy loads, and swing-up side handles for loading into truck beds.
Whether it's lunch in the park or an extended weekend at the deer lease, the Realtree Camouflage collection delivers function and fashion. The Realtree Camouflage collection will be available at retail in 2013 and range in price from $16.99 to $79.99.
For further information about the RealTree Collection or about any other Igloo product, contact David Thornhill at [email protected] or visit the company's Web site at www.igloocoolers.com.
Image courtesy of Stephanie Mallory