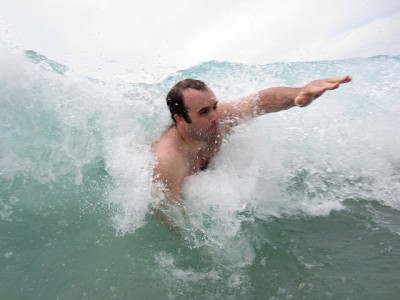 A man was body-surfing off Cape Cod with his teenage son when what is suspected to be a shark bit into both his legs below the knee and dragged him underwater momentarily. He was able to get to shore without further injuries, but he required hospitalization for a torn ligament.
Chris Myers, father of two, was on vacation at Cape Cod with his son at Ballston Beach in Truro, Massachusetts. At about 3:30 p.m. on Monday he was suddenly pulled underwater when body-surfing and surfaced moments later screaming for help.
Helpless witnesses stood by on the beach. Rescuers dragged him out of the water eventually and wrapped his legs in gauze. Myers was bleeding heavily through the gauze, according to a witness on the scene. "It was bad. Both [of] his legs were pretty bad," the witness told ABC affiliate WCVB.
Despite his harrowing injuries, Myers was conscious and alert while authorities loaded him into an ambulance to Cape Cod Hospital in Hyannis.
"It was pretty deep. You could see muscle and bone," Truro police officer Scott Holway told WCVB. "It was like his flesh had been ripped."
He was in stable condition upon arrival and is expected to live following the surgery to repair his ligament, according to a source close to the family. He was transferred to Massachusetts General Hospital in Boston.
Shark experts will examine his injuries to determine whether they were caused by a shark or another marine animal. Witnesses claim they saw a shark fin appear before the attack.
"Suddenly something came up between them. It had a large dorsal fin," Anne-Marie Corner, a Truro summer resident, told WCVB.
More sharks have been appearing off Cape Cod this summer. Experts believe that large concentrations of seals attract sharks into that area to feed.
Beach officials have put up signs along the beach warning of increases shark sightings, but they have not closed the beach.
Below is video coverage of the incident with a view of Myers as he is carried away by paramedics and a word from witnesses.
Image from Eli Duke (eliduke) on the flickr Creative Commons