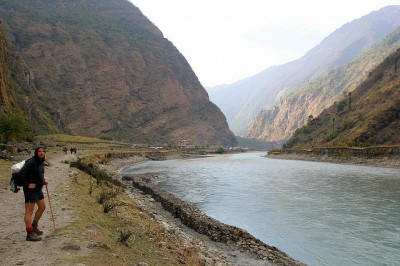 In light of recent tourist disappearances and violent incidents, Nepal's Ministry of Home Affairs has announced that solo trekkers or FITs (Free Independent Trekkers) will be required to take at least one local support staff (a guide or porter) along for their excursions in the mountainous Asian country.
The policy could come into effect as early as September, but a final decision must be made by the Ministry of Tourism before the policy is mandatory. The ministry introduced it in response to a concern about the safety of trekkers following a few incidents.
In June, a young female solo backpacker from Belgium died in the Langtang National Park causing the government banned FITs in that area. The 23-year-old was found beheaded along the route to the sacred Gosaikunda Lakes which she endeavored to complete alone.
In two other separate occasions last year, foreign women were attacked while solo-trekking in the Langtang area. Two years ago, a young American woman, Aubrey Sacco, disappeared altogether from the area.
Trekking agencies, embassies, international media and missing trekkers' families are among the groups calling for change in the country.
Approximately 40 percent of foreign visitors to Nepal come to traverse the country's various regions including Annapurna, Langtang, Helambu or Khumbu. For most regions, a no-fee trekking permit is needed, while other more remote areas require group permits at varying cost.
Sandra BK writing on Trekhimalaya.com is enthusiastic about the recent decision. She was part of the search-and-rescue team that looked for Aubrey Sacco with no success. Sandra writes, "I feel a personal victory with the announcement of the Nepal governments [sic] decision to not allow solo trekking in Nepal… Nepal is no more dangerous than France, America, or Australia – but would you go off into the Outback alone for a few weeks? Probably not."
The new policy change will cost FITs about $10 per day and should not affect tourist arrivals, according to Anjan Thapa, treasurer of the Trekking Agencies Association of Nepal (TAAN), which welcomed the decision.
Image from Nir Nussbaum on the flickr Creative Commons