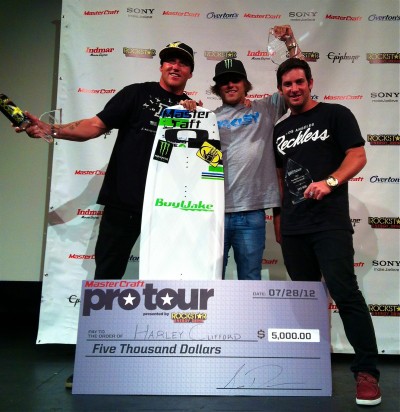 Harley Clifford won the Pro Wakeboard Tour stop #5 in Knoxville, Tennessee last weekend. This gave him the MasterCraft Pro Tour season title and puts him in a great position to win the King Of Wake series as well.
"This year was by far the gnarliest seasons on tour," Harley said. "I actually won this title in my rookie season, then it has eluded me for the last two years. So, I am definitely pumped to be back on top right now."
Also, be sure to follow Harley and Rusty Mainoski on the King Of Wake Tour. With two events left, Nationals and Worlds, Harley and Phil Soven are deadlocked in a tie for first place.
Harley has been at the top of professional wakeboarding for the last two years. Outside of competition he's pushed the envelope with stunning video segments like this one.
httpv://youtu.be/iJmDwObe0kI
Image courtesy Body Glove