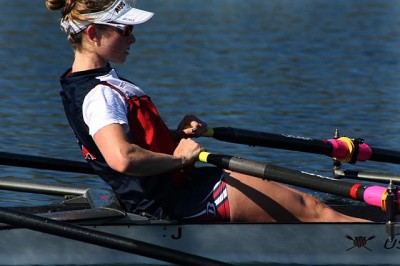 Up until today, the host country of the 2012 Summer Olympic Games had yet to win any gold medals. That changed at 11:55 am on the fifth day of the games when Team Great Britain rowers Helen Glover and Heather Stanning won the women's pair final at Eton Dorney.
Other member-states of the Commonwealth took places on the podium after Great Britain. Stanning and Glover's pace was no match for second-place Australia and New Zealand in third.
Great Britain's final finishing time was 7 minutes and 27.13 seconds, Australia at 7 minutes 29.86 seconds and New Zealand at 7 minutes 30.19 seconds.
At Eton Dorney, 30,000 fans were present for the win. Among the crowd were Princes William and Harry and Princess Anne.
Glover, 26, a graduate of Uwic sport and exercise science, has only been rowing for four years. Her mother Rachel said her family is still trying to get to grips with the sport following Glover's "meteoric, rapid rise."
Staff at Cardiff Metropolitan University (formerly known as Uwic) were happy for their graduate and hoped that they helped play a part in her success. A university spokesperson told Wales Online, "Helen graduated with in 2007 and even though rowing is not a sport we are known for, Helen learned a lot about sports science while she was with us."
Image from Alex Kojima on the flickr Creative Commons