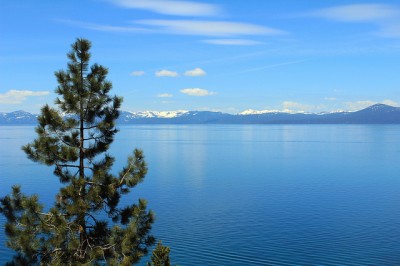 It's both a vacation idea and a bragging point if you live near one of the lakes considered in USA Today's "Best Lake in America" poll. More than 5,000 voters via Facebook and Twitter decided the winner. Voters chose Lake Tahoe in the Sierra Nevadas along the border of California and Nevada as the best lake in America for recreation.
The lake draws a "gazillion" recreationists to the lake Mark Twain called "the fairest pictures the whole earth affords."
Fifteen finalist lakes were nominated by regional magazine editors. Lake Tahoe's nominator, Peter Fish of Sunset said Tahoe is "too stunning not to be experienced," according to USAToday.com. Dick Goodrick, a Dayton, Nevada resident cited "year-round recreation, skiing, hiking, casinos, mountain bike riding, fishing, wake boarding, sailing on big boats, paddle wheel dinner/cruise boats, clear deep blue water, spawning salmon, zip-lining, historic homes to visit, and much more" as the reason Lake Tahoe stole the show.
Lake Charlevoix in the northern tip of Michigan's lower peninsula took second place. Other lakes to receive lots of support were Alabama's Lake Martin, Missouri's Lake of the Ozarks, North Carolina's Lake Lure, New York's Blue Mountain Lake, New Hampshire's Newfound Lake and Washington's Crescent Lake.
The Great Lakes were left out of the running on purpose. The intention was to spotlight the USA's smaller, lesser-known summer getaways. However, even the organizers admit that initiative was null by including Lake Tahoe, which is crowded with weekend tourists. To have a chance at some solitude at the lake, it's recommended to go there midweek or after mid-August when most students go back to school.
The 15 lakes to make the final list were:
Blue Mountain Lake, New York
Little Tupper Lake, New York
Lower Saranac Lake, New York
Rainy Lake, Minnesota
Lake of the Ozarks, Missouri
Lake Charlevoix, Michigan
Lake Lure, North Carolina
Lake Rabun, Georgia
Lake Martin, Alabama
Suttle Lake, Oregon
Crescent Lake, Washington
Lake Tahoe, California/Nevada
Moosehead Lake, Maine
Lake Willoughby, Vermont
Newfound Lake, New Hampshire
View the lakes in photographs here.
Former featured image from Mitch Lorens (MrMitch) on the flickr Creative Commons, Current featured image from Rocky Lubbers (Rocpoc) on the flickr Creative Commons